Teaching, Learning and Scholarship Faculty Development
Teaching, Learning, and Scholarship (TLAS) provides faculty development on effective teaching and educational scholarship.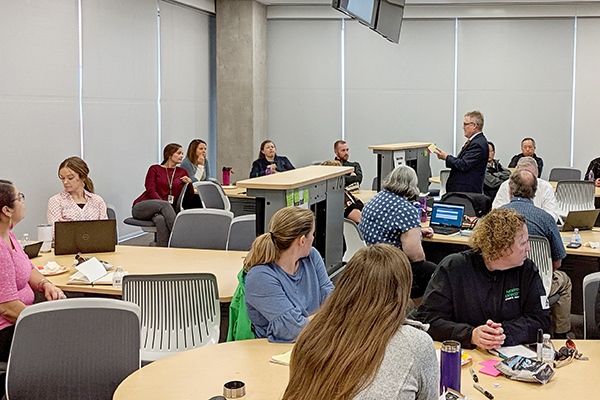 TLAS offers its faculty development in coordination with the Office of Education and Faculty Affairs, which coordinates schoolwide faculty development.
Faculty Development sessions are offered once-a-month (or more often!) during the months of September-May. These workshops and interactive lectures are targeted to anyone interested in teaching, learning, or scholarship strategies. Led by SMHS educators who are adopting, studying, or creating innovative, effective teaching and education scholarship, they promote faculty-to-faculty sharing of teaching tips, challenges, and strategies.
We host periodic book studies, guest speakers, and other interactive live or virtual workshops and lectures on topic related to educational best practices. Faculty and staff can earn badges for participation in varying degrees of intense faculty development, too!
This space, your email, Twitter (#SMHSFacDev), and For Your Health are used to disseminate details of upcoming faculty development offerings as they approach.
Please browse our past recordings by topic below and reach out to Adrienne Salentiny if you have questions. If you would like to schedule a departmental workshop, please reach out! Individual consultations with an instructional designer are also available.
New in 2023: Educator-Scholar Badges
SMHS faculty and staff who are interested in and motivated to prioritize teaching, learning, and educational scholarship are invited to work through our leveled TLAS badging program. Additional details will be available in the coming months. For now, please view the criteria for each level below. If you feel you have met the criteria for one or more levels, please contact adrienne.salentiny@und.edu with a list of activities and evidence toward badge completion!
TLAS Faculty Development Educator-Scholar Badge Criteria
Spring 2023 Faculty Development Schedule
We are pleased to offer the following virtual faculty development opportunities through which you'll benefit from the expertise of speakers from six medical schools across the region, learning about their best practices and most effective strategies. This programming is funded by an Association of American Medical Colleges (AAMC) Central Group on Educational Affairs (CGEA) mini-grant for faculty development. Due to differing time zones and speaker schedules, please notice that the time of day is slightly different for some of these events. Take note of the start time! All times are listed here in Central time.
If you are a Twitter user, please tweet about these events! Tag @SMHS_TLAS and use hashtags #SMHSFacDev, #TheCGEA, and/or #UNDProud. Follow these hash tags for the latest in UND, SMHS, and CGEA news!
May 11, 2023
11:00 Central

Faculty Career Success and Promotion

Judy S. Blebea, MD
Central Michigan University

J. M. Monica van de Ridder, PhD
Michigan State University

June 13, 2023
11:00 Central

Change Management

J. M. Monica van de Ridder, PhD
Michigan State University

Heeyoung Han, PhD
Southern Illinois University
Past Faculty Development Session Recordings
Organized by topic, browse recordings of past events and locate relevant materials.
Suggest a Topic or Lead a Session
If you have any questions, would like more information, or would like to suggest (or lead!) a future meeting topic, contact Adrienne Salentiny for more information.
Looking for a specific recording? You can search Education Resources' full Mediasite catalog.
2021 Faculty Development Needs Assessment Results
TLAS conducted our 2021 Needs Assessment during summer, 2021. Responses to the 2021 faculty development needs assessment survey revealed several preferences, ideas, and areas of focus. Thank you to everyone who provided input —we heard you! We'll continue to share the developments we make in response throughout the next year. As always, please reach out to us with questions, suggestions, concerns, or to present a faculty development session or activity!
2021 Needs Assessment Summary of Findings and Results
Past Needs Assessments:
2020 Needs Assessment Summary of Findings and Results
The next needs assessment is scheduled for 2023.
More Workshops at UND
Interested in other faculty development opportunities?
The Office of Education and Faculty Affairs coordinates faculty development schoolwide.
The Teaching, Transformation, and Development Academy (TTaDa) is a campus-wide unit offering many services, including periodic workshops related to several UND academic technologies such as Blackboard, Yuja, VoiceThread, Collaborate Ultra, and Zoom. They additionally offer topics on writing, teaching, inclusion, and more. Now that most sessions are offered online, it's never been easier to attend a campus workshop!