SMHS Recording Studio
Welcome to the SMHS Teaching, Learning, and Scholarship (TLAS) Media Recording Studio.
The Recording Studio can be used to:
Record high-quality instructional video

Expert interviews or panel discussions
Physical exam skills demonstrations
Videos to embed in online interactive learning

Create lecture recordings (plug-and-play station with high-quality lighting and microphone)
Produce educational podcasts (dedicated podcasting equipment)
Generate digital photos or videos of smaller objects & processes
The Recording Studio is available to all SMHS faculty and staff but must be reserved in advance through the SMHS Room Scheduler.
The SMHS Instructional Designers can provide assistance with creation and post production editing of digital media including:
Photos
Videos
Audio
eLearning Modules
Available Technology:
"Plug-and play" LED studio lighting preset for recording space
Cameras:

Logitech Mevo Cameras and iPad Air that allow multiple shots and editing on-the-fly
Insta360 ONE RS 1-Inch 360 camera (for VR)

Microphones

Blue Yeti X streaming microphone
Auray audio desktop isolation filter and stand
Wireless lavalier microphones

Backdrops

Media SoftwareUND dropdown background screen
Green screen recording to create visual effects and backgrounds

Lightboxes for close-up recording and creation of media assets
Editing Stations and Tools


Windows lecture capture and editing station, interactive video creation
Mac Studio M1 with 64GB RAM, 2TB, 34-inch curved monitor
Apple ProApps Bundle (Final Cut Pro, Logic Pro, Motion, Compressor, MainStage)
Adobe Cloud Suite
Camtasia (screen-recording and embedded quizzing for videos)
SimTutor
Educational Resources has provided a variety of background options that feature educational, clinical, and research imagery. Using these options ensure that you images are high-quality images that meet UND copyright standards when creating content in the recording studio.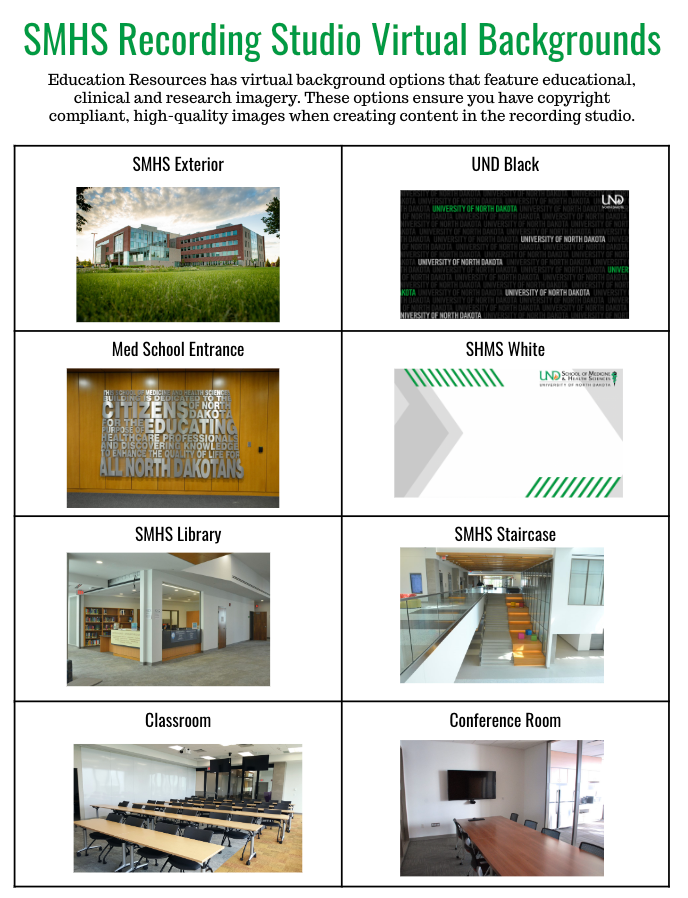 Additional background and digital backgrounds can be found through the University of North Dakota's Branding Website and The School of Medicine and Health Science Branding Templates.
What you wear and when recording can have an impact on the overall quality of your video and audio. Be sure to select clothing and accessories for the content you will be discussing, by following these important tips

DO wear clothing that is comfortable & natural. If you feel comfortable and confident, that will be conveyed through the video and audio.

DO NOT wear high-contrast clothing. High-contrast colors like neons and bright colors can be distracting & do not film well.

DO wear solid colors. Neutrals, deep colors, soft blues, and browns work best. Darker colors are typically more flattering on camera. White tends to become green from the light reflected off the green screen. Only wear white if it is mostly covered up by another color (like a jacket over a white shirt).

DO NOT wear stripes, patterns, texts, and logos. Patterns such as stripes, plaids, and houndstooth can be distracting and do not film well. They can cause wavy patterns or shimmers to appear in the film. Additionally, logos and graphics on your clothing can show up backwards. This also applies to accessories such as scarves, hair accessories, and ties.

DO wear subtle jewelry and ties. Small and subtle jewelry in silver and gold add personality. Ties should have simple patterns to create interest without creating a distraction.

DO NOT wear shiny or reflective items. Shiny and reflective clothing and accessories that can reflect light or be distracting.

DO blot your face with a tissue or powder. Dabbing your forehead with a cloth or light powder right before you start filming will remove the reflective shine from on-set lighting.

DO NOT wear sleeveless shirts or dresses. Wearing clothing that reveals more skin on the chest, arms, and legs often doesn't photograph well and can take away focus from your face and message.

DO take off ID badge and keys. Please remove your UND badge, lanyard, and/or keys prior to recording. These items can be distracting or create odd lines in your video.

DO NOT wear jingly accessories. The sound from bracelets, necklaces, earrings, and chains that may jingle or clink will get picked up by the microphone.

DO NOT wear green or color that will cause you to disappear with your background. Avoid all green (including: kelly, olive, moss, or khaki) for clothing and accessories. It will cause you to be a floating head and your body to become invisible with the green screen or the UND School of Medicine background. Alternatively, if you have selected a background that is grey, avoid wearing grey.

DO NOT forget to take care of yourself and appearance. Practice good health and hygiene before shooting. Make sure to remove any crumbs, stains, brush/check your teeth, tame your flyaways (so you do not create a hair halo). Overly dry or oily skin and lips do not make for a camera-ready appearance & can detract from your message. With makeup, avoid extremes and colors that do not compliment your natural skin tone. Too-dark shades can cause distracting contrast, and some nude shades will disappear on camera.
SMHS Recording Studio Digital Badging

SMHS Faculty and Staff who are trained and utilize the Recording Studio will be eligible to earn digital badges through Credily to illustrate their knowledge & skill in creating media content. Please contact your Educational Resources team to learn more about upcoming trainings and how to earn badges.

Level 1

Level 2

Level 3: