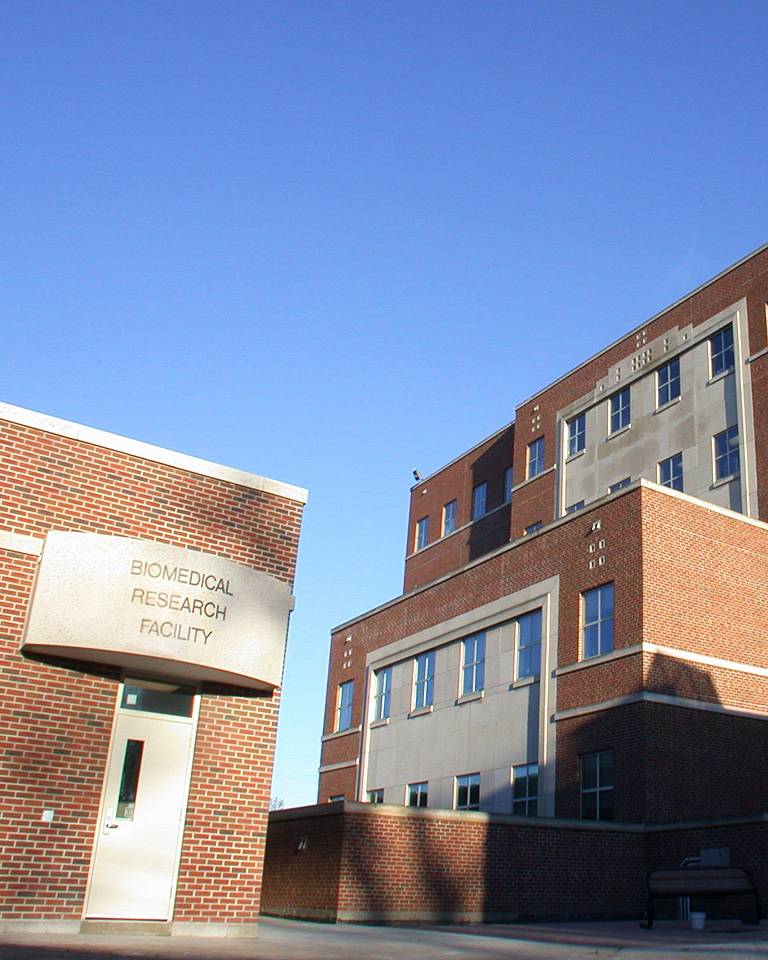 Research Facilities and Cores
Building the future of health and medical research.
Sample Facilities & Resources Document
Buildings
The UND School of Medicine & Health Sciences has access to state-of-the-art animal research facilities, a lab dedicated to epigenetics research and a facility for neuroscience research.
Center for Biomedical Research
The Center for Biomedical Research facility located next to Columbia Hall is a state-of-the-art AAALAC-approved animal research facility.
Satellite Animal Vivarium
A 4,823-square-foot satellite vivarium was built in 2016 at the School of Medicine & Health Sciences building.
The facility is designed as a smaller counterpart to the Center for Biomedical Research on campus. A garage space adjacent to the satellite vivarium is available for animal transfer between the two facilities. All food and water provided to the animals comes from the Center to ensure continuity of care to the animals.
Satellite Vivarium Rooms
Every sink in the satellite vivarium has an eye wash. There is an eye wash safety shower and fire extinguisher in the common corridor for emergency use.
Rooms used for research include:
Holding rooms (two for mice and one for rats) contain a stainless steel sink area, two double sided cage racks of disposable cages and a changing station for moving animals between clean and dirty cages.
Two procedure rooms are equipped with a stainless steel sink area, a work surface and a biosafety cabinet.
The behavioral suite consists of four individual lab spaces with light tight doors. Two have curtains, a sink, and work area while the other two are without curtains.
The infection suite has secured access into an ante chamber and two infectious holding rooms, one bacterial and one viral. Changing stations have biosafety cabinets for additional protection for the users.
Support Spaces
Office area for records
Rest room
Autoclave
Utility room
Storage rooms for food, clean supplies, vivarium waste and dirty cages waiting for pick up
Built for Durability and Cleanliness
The finishes in the satellite vivarium are selected for durability and cleanliness.
The floor is of poured epoxy over solid concrete.
The walls are concrete block and finished with epoxy paint.
Ceilings are gypsum board with all necessary access panels located in the corridor for easy access.
All casework and crash rail is stainless steel.
Edwin C. James Medical Research Facility
The Department of Biomedical Sciences Epigenetics Group is located in the Edwin C. James Medical Research Facility. Opened in 1994, this structure provides about 90,000 square feet of laboratory and office space. The 5,500-square-foot first floor of the facility was renovated in 2015 to accommodate the epigenetics research.
Neuroscience Research Facility
The Neuroscience Research Facility helps investigators develop expertise in multidisciplinary approaches toward the understanding of brain function.
The Facility is research-oriented involving faculty from the Biomedical Sciences Department. The Facility building is located on the UND campus adjacent to Columbia Hall. This building is approximately 14,000 sq. ft. and provides ten laboratories and office space as well as a conference/seminar room, atrium, and dining area for UND researchers engaged in the study of neurological disease and treatment.
It is a highly interactive environment with shared space, equipment, combined lab meetings/seminars and very collegial with abundant opportunities for collaborative projects.
Research Core Facilities
Our research cores offer a wide variety of services, ranging from behavior research to high resolution electron microscopy. Through these diverse resources, we provide access to state-of-the-art equipment and instrumentation, technical expertise and training and education all designed to support innovative research. Our Genomics Core Data Sharing Policy, which can serve as the template for our other Cores' data sharing policies, can be read here:
Genomics Core Data Sharing Policy
Contact Us