Frank Low Research Day
The premier biomedical research event held annually at the UND School of Medicine & Health Sciences.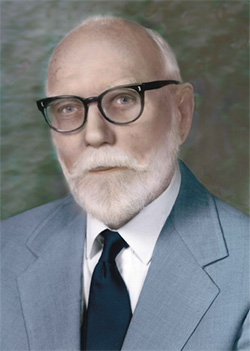 Named in honor of the former SMHS anatomy professor who came to UND in the 1960s and pioneered a series of new techniques for the electron microscope, Frank Low Research Day is the culminating event of the academic year for many area researchers working in the biomedical and health sciences.
Every year, more than 150 faculty members, postdoctoral fellows, and students present oral and/or poster presentations on a wide range of basic biomedical, health sciences, translational, and clinical topics. Poster presentations remain on display in the West Atrium on the first floor of the UND School of Medicine & Health Sciences.
Learn more about Frank Low in this 1999 article published in The Anatomical Record (No. 257: 48-49).
Frank Low Research Day 2023
The 43rd Annual Frank Low Research Day will be held in-person and online on Thursday, April 13, 2023. Faculty, students, and staff in the basic sciences, health sciences, and all clinical departments are encouraged to participate!
David R. Carr, M.D., M.P.H., associate professor of dermatology at The Ohio State University Medical Center, will give the keynote presentation. Dr. Carr's presentation, "Mentorship and Collaboration: The Power of Partnerships in Squamous Cell Carcinoma," will take place at 1 p.m. on April 13 in SMHS Room E101 – the Charles H. Fee, M.D., Auditorium.
Specializing in Mohs micrographic surgery, cutaneous reconstructive surgery, cutaneous oncology, and high-risk skin cancer groups (solid organ transplant and other immunosuppressed patients), Dr. Carr is the program director of the Micrographic Surgery and Dermatologic Oncology Fellowship and serves as the Vice Chair of Academic Affairs within the Department of Dermatology. Dr. Carr's research interests primarily concentrate on cutaneous oncology and outcomes-based research, particularly in cutaneous squamous cell carcinoma.
FLRD 2023 Awards!
Another Frank Low Research Day (FLRD) is in the books! Thanks, again, to each of the student, faculty, and staff participants of last week's 43rd FLRD. A number of poster awards have announced for projects displayed at the event. Congratulations to the following winners:
Basic Sciences
Graduate Students
Best Poster: Danielle Germundson-Hermanson

– Clinical and Translational Science: Danielle L. Germundson-Hermanson and Kumi Nagamoto-Combs, "Histamine H3 receptor antagonism mitigates food-hypersensitivity-associated depressive behavior and neuropathology in a mouse model of cow's milk allergy."
Best Poster: Dilini Ekanayake

– Biomedical Sciences: Dilini Ekanayake, Suba Nookala, and Kumi Nagamoto-Combs, "Leukocytes as mediators of gut-brain communication."
Honorable Mentions:
Gbolahan Bamgbose

– Biomedical Sciences: Gbolahan Bamgbose and Alexei Tulin, "PARP-1 and PR-Set7/H4K20me1 collaborate in regulating gene expression programs during development and heat stress response."
Sakuntha D. Gunarathna

– Biomedical Sciences: Sakuntha D. Gunarathna, Nazim Belabbaci, Regina Nguyen, Aerica Nagornyuk, and Motoki Takaku, "Predicting Cancer from Cell-Free DNA: A Machine Learning Approach."
Medical Students
Best Poster: Christopher R. Brown: Christopher R. Brown and James D. Foster, "Enhanced palmitoylation and activity of autism-associated human serotonin transporters are sensitive to downregulation by Escitalopram."
Postdoctoral Fellow
Best Poster: Geetika Verma – Biomedical Sciences: Geetika Verma and Kumi Nagamoto-Combs, "Continuous consumption of whey protein maintains neuroinflammation in a mouse model of asymptomatic cow's milk allergy."
Undergraduate Students
Best Poster: Odele K. Rajpathy – Surgery: Odele K. Rajpathy, Emilie E. Vomhof-DeKrey, Elizabeth Prezler, Alison Ward, Joel Caton, and Marc D. Basson, "SLFN12 Expression Increases from 1st to 2nd Trimester of Gestation but then Decreases with a One-Carbon Metabolite Diet in Cow Mammary Tissue."
Clinical Sciences
Medical Students
Best Posters:
Kalli J. Fautsch:

Kalli J. Fautsch, Darci R. Block, Jonathan Graff-Radford, Feng Wang, Emily C. Craver, David O. Hodge, Jeremy K. Cutsforth-Gregory, Khin P. Kilgore, Ronald C. Petersen, David S. Knopman, Eoin Flanagan, Michel Toledano, Michelle M. Mielke, M. Tariq Bhatti, and John J. Chen, "Population-Based Evaluation of Total Protein in the Cerebrospinal Fluid."
Courtney Hanson:

Courtney Hanson, Sadia Saizy, Danielle O'Hare, Regina Schlichting, and Andrew Williams, "Does maternal asthma modify the association between placental hormones and placental weight?"
Honorable Mentions:
Brenna Hanson:

Brenna Hanson, Brailyn Weber, and Steffany Moen, "Developmental Outcomes of Neonates following Therapeutic Hypothermia for Hypoxic Ischemic Encephalopathy."
Nickell L. Austin:

Nickell L. Austin, Megan C. Corn, Mannuru R. Devendranath, and Alicia M. Hinze, "Scleredema in the Setting of Monoclonal Gammopathy of Unknown Significance with new onset Raynaud's Phenomenon."
Megan Corn

and

Julie Dworsky:

Megan Corn, Julia Dworsky, Abe E Sahmoun, and James R. Beal, "Differences in maternal outcomes in American Indian and White patients diagnosed with hypertensive disorders of pregnancy, 2007-2020."
Medical Residents
Best Poster: Sean Montgomery – Sean Montgomery, Brock Ashmore, James Fowler, Abe Sahmoun, and Dubert Guerrero, "Association Between Statin Use and Myasthenia Gravis Exacerbation."
Honorable Mention: Andrew Pritchard – Andrew Pritchard, Sean Keup, Thomas Baker, Wyatt Lautt, Abe Sahmoun, and Dubert Guerrero, "Comparison of Clinical and Radiographic and Demographic Characteristics of Patients with Covid-19 Associated Pulmonary Aspergillosis (CAPA) versus Covid-19."
Health Sciences: Population Health and Occupational Therapy
Occupational Therapy
Best Posters:
Bridget J. Reuss

– Occupational Therapy: Bridget J. Reuss and Wanda Lauer, "A Proactive Approach to Lymphedema Treatment: A Patient's Educational Guide."
Abby A. Bauman

– Occupational Therapy: Abby A. Bauman and Mandy Meyer, "Disability Awareness to Promote Inclusivity for Children in the Educational Setting."
Honorable Mentions:
Therese Pettersen

– Occupational Therapy: Therese Pettersen and Anne Haskins, with Contributor: Joe Bugher, "The People Left Behind: Older Adults in Custody."
Dominique Menard

– Occupational Therapy: Dominique Menard and Breann Lamborn, "The Newly Arrived Client: Applying Culturally Responsive Occupational Therapy Approaches to the Refugee Population to Promote Occupational Justice."
Public Health Students
Best Poster: Cortez Standing Bear – Cortez Standing Bear and S. Cristina Oancea, "Racial differences in the association between health insurance and coronary heart disease: results from a multi-year cross-sectional study."
Honorable Mentions:
Brooke Froelich

– Brooke Froelich and Ursula Running Bear, "Community Readiness Assessment for Type 2 Diabetes on the Standing Rock Reservation."
MichaeLynn Kanichy

– MichaeLynn Kanichy and Cristina Oancea, "The impact of the COVID-19 pandemic on the association between physical activity for leisure and the diagnosis of coronary heart disease or myocardial infarction."