Frank Low Research Day
The premier biomedical research event held annually at the UND School of Medicine & Health Sciences.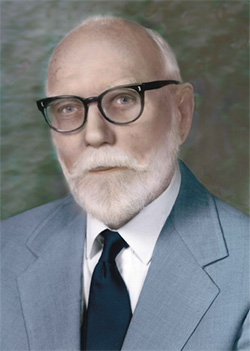 Named in honor of the former SMHS anatomy professor who came to UND in the 1960s and pioneered a series of new techniques for the electron microscope, Frank Low Research Day is the culminating event of the academic year for many area researchers working in the biomedical and health sciences.
Every year, more than 150 faculty members, postdoctoral fellows, and students present oral and/or poster presentations on a wide range of basic biomedical, health sciences, translational, and clinical topics. Poster presentations remain on display in the West Atrium on the first floor of the UND School of Medicine & Health Sciences.
Learn more about Frank Low in this 1999 article published in The Anatomical Record (No. 257: 48-49).
Frank Low Research Day 2021
The 41st Annual Frank Low Research Day will be held virtually on Thursday, April 22, 2021. Students and faculty in the basic sciences, health sciences, and clinical departments are encouraged to participate in the poster presentations.
Please contact Heather Jensen at heather.jensen@und.edu or 701.777.2516 with any questions.


Guest Speaker
This year's virtual guest speaker is Dr. Eliezer Masliah. Eliezer Masliah, M.D., was named director of the Division of Neuroscience at the National Institute on Aging (NIA) in July, 2016. Before joining NIA, he held joint appointments in the departments of pathology and neurosciences at the University of California, San Diego (UCSD). As head of UCSD's Experimental Neuropathology Laboratory, he investigated synaptic damage in neurodegenerative disorders such as Alzheimer's disease, Parkinson's disease, dementia with Lewy bodies, multiple system atrophy and AIDS-related dementia. His laboratory developed novel models of neurodegeneration as well as new gene therapies, small molecules and experimental immunotherapies for Alzheimer's disease and Parkinson's disease. Four of the experimental therapeutic approaches developed at his laboratory have now passed Phase I clinical trials. As the director of autopsy services at the UCSD Medical Center, he also directed the neuropathology core of the NIA-supported Shirley-Marcos Alzheimer's Disease Research Center.
See Dr. Masliah's Presentation Here
Frank Low 2021 Award Winners
Poster Winners
Basic Sciences – Graduate Students
Best Poster: Danielle Germundson (Clinical and Translational Science) - Danielle L. Germundson*, Nicholas A. Smith, and Kumi Nagamoto-Combs. "Repeated allergen exposure causes depressive-like behavior and neuroinflammatory changes in a mouse model of non-anaphylactic cow's milk allergy."
Honorable Mention: Regan Lawrence (Biomedical Sciences) - Regan C. Lawrence*, Drew R. Seeger, Friedhelm Schroeder, Eric J. Murphy. "Liver fatty acid-binding protein gene ablation increases saturated fatty acid content and phosphatidylinositol mass in mouse brain."
Basic Sciences – Post-Docs
Best Poster: Gaurav Datta (Biomedical Sciences) - Gaurav Datta*, Nicole Miller, Jonathan D. Geiger, Xuesong Chen. "Endolysosome accumulation of Tat is critical for reactivation of latent HIV-1 reservoirs."
Honorable Mention: Abhijit Satpati (Biomedical Sciences) - Abhijit Satpati*, Santhosh Mukundan, Colin Combs, and Suba Nookala. "HLA-II and Sex-dependent brain sub-regionspecific reactive astrogliosis during Group A Streptococcal skin infection in humanized mice."

Medical Students
Best Posters: 1) Anne Sandstrom (Pediatrics) - Anne Sandstrom, Mariah Jorda, Bradley J. Conant, Marilyn G. Klug, Jyoti Angal, and Larry Burd. "Prenatal Exposure to Alcohol and Cigarette Smoking Increase Risk of Hospitalization for American Indian Infants." 2) Zachary Sebens and Andrew Williams. "Socioeconomic barriers to early prenatal care among American Indian and white women in North Dakota."
Honorable Mentions: 1) Casey Ricker and Veronica Harrison (Community and Family Medicine) - Casey Ricker, Veronica Harrison, James R. Beal, and Abe E. Sahmoun. "Association between Rural Residence and Colonoscopy Screening in the United States." 2) Zachary Podoll and Signe L.P. Thorpe (Community and Family Medicine) - Zachary J. Podoll, Signe L. P. Thorpe, Abe E. Sahmoun, and James R. Beal. "Association of Race and Utilization of Pain Medication in Pediatric Patients with Upper and or Lower Extremity Fractures."
Medical Residents
Best Posters: Phanindra Antharam (Internal Medicine) - Phanindra Antharam*, Benjamin Kreitz, Abe Sahmoun, Gopikrishna Paladugu. "Current practice of post orthopedic surgery venous thromboembolism (VTE) prophylaxis and incidence of VTE."
Honorable Mention: Tyler Beattie (Transitional Year Intern) - Tyler J. Beattie and Dubert Guerrero. "Pre-procedural Asymptomatic Patients with Covid-19."
Occupational Therapy Students
Best Posters: 1) Lexie Coalwell (OT) - Coalwell, L., Moran, A., & Janssen, S. "The role of occupational therapy in promoting employment outcomes with individuals diagnosed with a serious mental illness." 2) Rachel Grubb (OT) - Rachel Grubb*, Amira Ragab, Janet Jedlicka. "Occupational Therapy's Role in Developing Social Skills for Adolescents with Complex PostTraumatic Stress Disorder."
Honorable Mentions 1) Kalindi Rachey and Hailey Johnson (OT) - Kalindi J. Rachey and Hailey N. Johnson. "Parental Caregiver's Guide for an Adolescent with Down Syndrome: Transitioning out of High School." 2) Alycia Peacock and Grace Spanos (OT) - Alycia Peacock, Grace Spanos, Jessa Hulteng. "A Practitioner's Guide: Using the Cognitive Performance Test to increase Independent Living Skills for Individuals with Intellectual Disabilities."
Public Heath Students
Best Posters: Arun Bhatta (Public Health) - Arun Bhatta*, Ingrid Glurich, Mary Dorsch, Alok Panny, and Greg Nycz. "Emergency visits in dental settings for non-traumatic dental conditions among patients with local access to dental care in Wisconsin."
Honorable Mention: Sadia Saizy (Public Health) - Sadia Saizy*, Pauline Mendola, William Grobman, Akila Subramaniam, Danielle R Stevens, Sunni L Mumford, Kate Larson, Zhen Chen, Lynne Messer, Virginia Duncan, Ona Faye-Petersen, Rajesh Kumar, Andrew Williams. "Prenatal exposure to perceived stress, maternal asthma, and placental size."