HWI Data and Results
Data on outcomes from the SMHS programs connected to the HWI suggest the program has succeeded in training more providers and retaining them for practice in North Dakota.
Goal 1: Reduce disease burden
In addition to our education of health providers, the SMHS actively seeks to promote health and wellness reduce the burden of disease in North Dakota in a variety of ways:
Our annual Joggin' with Josh community 5K/10K walk run is entering its twelfth year.
The SMHS sponsors a multi-disciplinary continuing medical education event for health providers in conjunctions with UND Homecoming each fall semester.
SMHS faculty and students routinely participate in community service events and public health projects, for example, medical students help take free blood pressure readings of New Americans and other community members participants at the Global Friends Coalition's annual community picnic.
SMHS staff and students participate in UND's Cardiac Ready Campus Committee, helping identify ways to improve cardiac health generally on the UND campus and Grand Forks community.
Dean Joshua Wynne doubles as North Dakota's Chief Health Strategist, reporting directly to the Governor in this role.
Our Public Health program continues to partner with the North Dakota Department of Health and Grand Forks Public Health Department on COVID-19 testing, contact tracing, and public education.
Goal 2: Retain more graduates for patient care in the state
Our RuralMed program secures new MDs for practice in a rural North Dakota community in exchange for tuition forgiveness.

To date, nine (9) RuralMed graduates from UND are practicing in rural North Dakota, and 18 more enrollees are scheduled to practice in rural parts of the state following their residency training over the next several years.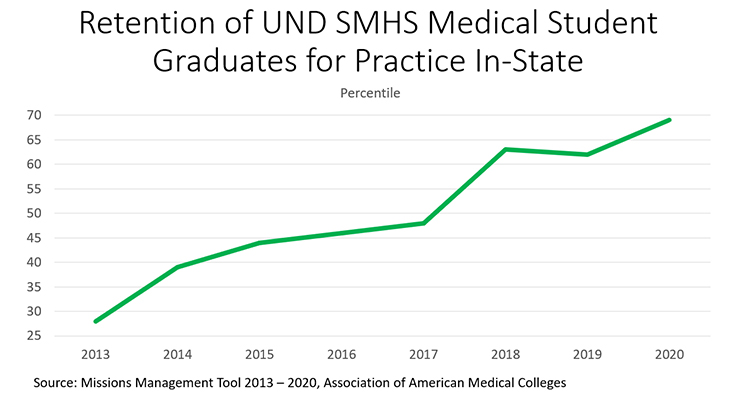 We have worked hard to minimize increases in tuition and increase the variety and size of student scholarships in an effort to reduce students' debt burden. As the chart below shows, UND has done an excellent job of keeping tuition lower than our regional peers. Long term, this effort helps to retain more students for in-state residency and/or practice.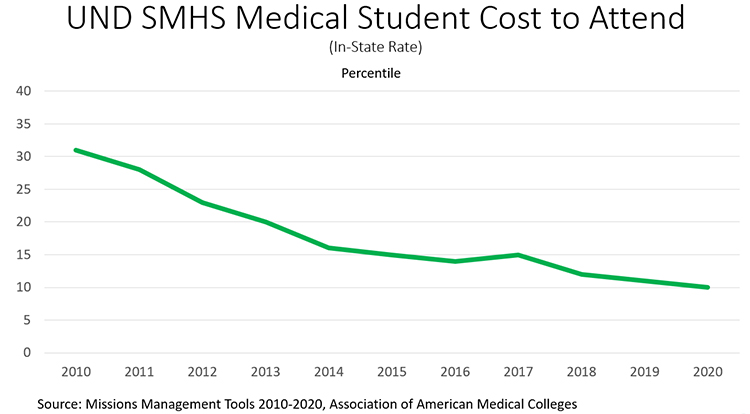 We've also worked to grow the number of endowed faculty chair positions to recruit and retain top teachers to help retain students and graduates.
Goal 3: Increase class size
Medical student class increased by 16 per year for a total of 64 additional MD students trained annually since 2012.
86% of medical students are from North Dakota or have strong ties to the state.
Health sciences student numbers have increased by 30 per year for a total of 90 additional physical and occupational therapists, medical laboratory scientists, physician assistants, public health professionals, and athletic trainers at UND, relative to 2012.
Residency and fellowship (post-MD training required prior to clinical practice) slots increased by 35 with a plan to ramp up to 51 or more (aided by public "private" partnerships with healthcare systems).
Goal 4: Improve the efficiency of the healthcare delivery system
The SMHS is doing more to train in interprofessional healthcare teams, including offering our interprofessional healthcare course (IHC) several times per year and assembling students of different disciplines in our Eight Learning Communities within the SMHS building in Grand Forks. Since 2017, the IHC has connected more than 1,500 UND medicine and health professions students (s

ocial work, dietetics, nursing, communication and speech disorders, counseling psychology, occupational therapy, and physical therapy)

, helping them understand the team-based nature of modern healthcare.
We have developed several strong telehealth programs and training approaches that bring the clinic to the patient rather than the other way around (especially important in rural areas).
Our new "Curriculum 2.0" gets medical students into clinics sooner and expands the elective offerings open to them earlier in their training.
Our Minot Integrated Longitudinal Experience (MILE) and Rural Opportunities in Medical Education (ROME) program for medical students gives them more and better rural training, increasing their likely independence on the wards. The ROME program is now, as of 2021, at capacity, having filled all 10 slots created for medical students looking to conduct a rural practice clerkship.
Our newest departments of population health, geriatrics, Indigenous health, and emergency medicine broaden our students experience and training.
Our decade-old Public Health program, which features a two-track Master of Public Health degree and the world's first-ever Ph.D. program in Indigenous Health, continues to expand. The small-cohort Indigenous Health doctoral program saw more than 300 applications in its first-year alone. Likewise, t

he Master of Public Health program saw an

80% increase in completed applications in 2021.
| SMHS MD Program Outcomes | Percentile Rank |
| --- | --- |
| Graduates entering primary care | 97th |
| Graduates practicing in rural areas | 100th |
| Graduates practicing family medicine | 99th |
| Fraction of class identifying as American Indian / Alaska Native | 100th |
Source: AAMC Missions Management Tool, 2021