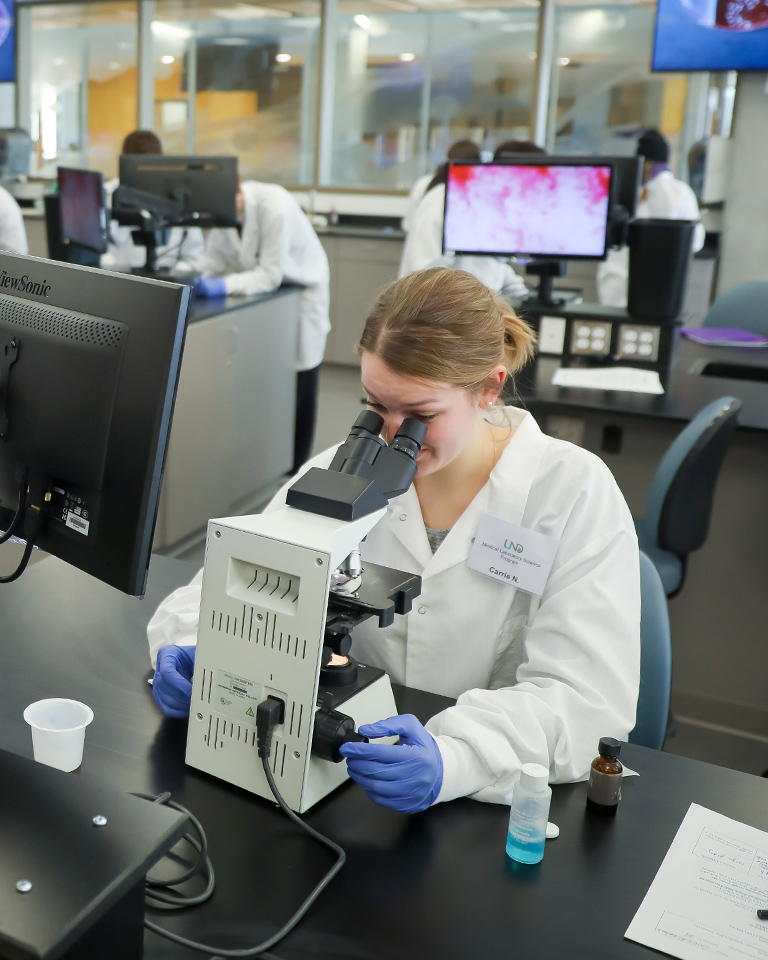 What is Medical Laboratory Science?
Medical laboratory scientists, sometimes referred to as clinical laboratory scientists or medical technologists, are key members of the health care team. They are concerned with the study and practice of diagnostic medicine by generating accurate and reliable test results in chemistry, hematology, immunology, immunohematology, and microbiology. The results provide valuable information that is used to diagnose and treat disease.
What to do with a medical laboratory science degree?
Employment opportunities exist not only in hospitals and clinics, but also in physician offices, government agencies, industry, research, the armed forces and health related facilities. A workforce shortage of medical laboratory scientists exist and has generated a large demand for new graduates. In addition to immediate employment opportunities, many graduates attend medical school or pursue graduate degrees in science, management or education.
The Role of a Medical Laboratory Scientist
The medical laboratory scientist is qualified by academic and applied science education to provide service and research in clinical laboratory science and related areas of the rapidly changing and dynamic healthcare delivery of systems.
Medical laboratory professionals:
Perform, develop, evaluate, correlate, and assure accuracy and validity of laboratory information
Direct and supervise clinical laboratory resources and operations
Collaborate in diagnosis and treatment of patients
The medical laboratory professional has diverse and multi-level functions in:
The principles, methodologies and performance of assays
Problem-solving
Troubleshooting techniques
Interpretation and evaluation of clinical procedures and results
Statistical approaches to date evaluation
Principles and practices of quality assurance/quality improvement
Continuous assessment of laboratory services for all major areas practices in the contemporary clinical laboratory
Medical laboratory scientists possess the skills necessary for financial, operations, marketing, and human resource management of the clinical laboratory.
Medical laboratory scientists practice independently and collaboratively, being responsible for their own actions, as defined by the profession. They have the requisite knowledge and skills to education laboratory professionals, other health care professionals, and others in laboratory practice as well as the public.
The ability to relate to people, a capacity for calm and reasoned judgment and a demonstration of commitment to the patient are essential qualities. Communications skills extend to consultative interactions with members of the healthcare team, external relations, customer service and patient education.
Medical laboratory scientists demonstrate ethical and moral attitudes and principles that are necessary for gaining and maintaining the confidence of patients, professional associates, and the community.
Source: NAACLS 2014
MLS Student Feedback
In post-graduation surveys of the program, our alumni report feeling that the MLS program prepared them well for clinical practice, and that they are glad they chose UND for their education. Here are a few of those comments:
"I'm very proud that I went to UND for MLS. It was definitely the best decision for my education."
"I'm so thankful for graduating from UND MLS. My superiors hold me at a higher standard because of it."
"Fantastic program! Wouldn't imagine going anywhere else."
"Keep doing what you are doing! I see on a daily basis the outcomes of many other programs and there truly is no comparison to the level of preparation that UND students have compared to the students from other programs."