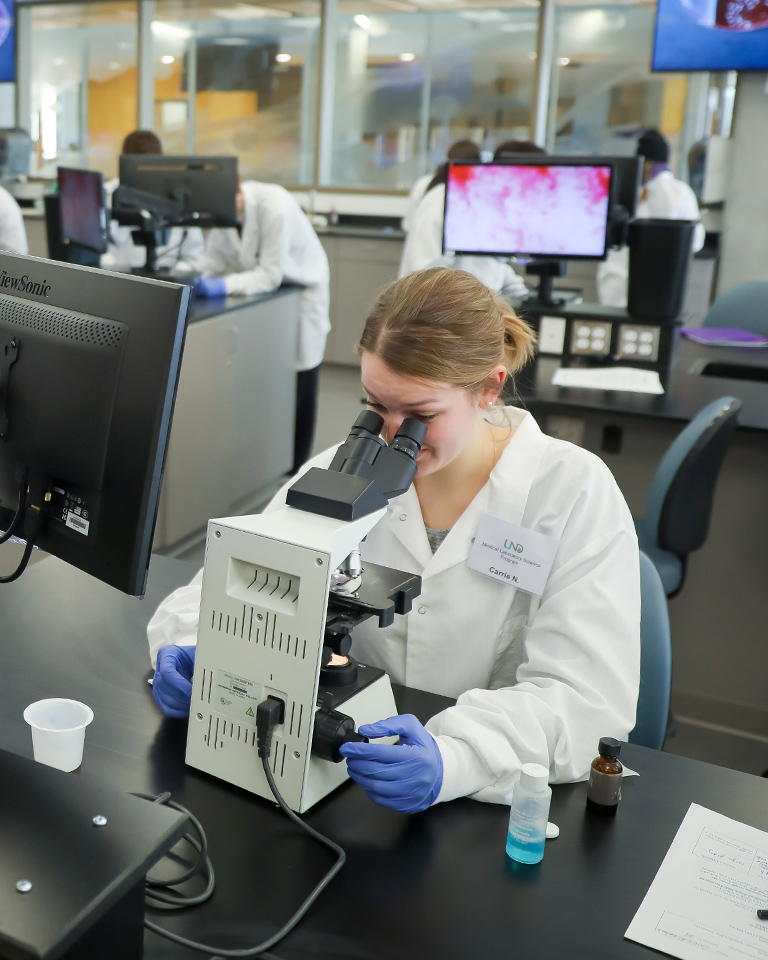 Program Overview
UND's Medical Laboratory Science (MLS) programs have a long-standing commitment to providing high quality laboratory education that prepares students for professional success.
The University of North Dakota (UND) has offered a degree in Medical Laboratory Science since 1949. Graduates of UND's MLS programs are highly sought after in laboratories both large and small throughout the country. Our students are supported by faculty and staff that are dedicated to helping students succeed.
Program Options
The UND MLS program offers many options to help reach your professional goals. Whether you are seeking your first bachelor's degree, MLS certification, or to advance your existing MLS career, check out our different program options below:
Mission
The mission of the Department of Medical Laboratory Science (MLS) is to provide high-quality education that prepares students to positively impact healthcare through medical laboratory practice in the state and affiliated regions.
MLS Program Goals
MLS Department Goals
Develop and deliver a curriculum that: reflects current laboratory knowledge and best-practice; promotes critical thinking, scholarship, and life-long learning; and aligns with the University of North Dakota (UND), UND School of Medicine & Health Sciences, and National Accrediting Agency for Clinical Laboratory Science standards.
Provide a student-centered environment through individualized advising, responsive mentoring/instruction for all students including those with diverse backgrounds, and supportive faculty/staff.
Help address healthcare needs in the state and affiliated regions by graduating students that: meet entry-level competencies; are employable in various settings; and are positioned for leadership in medical laboratory practice.
Promote and advocate for medical laboratory professions
Undergraduate MLS Learning Goals
The student will develop technical skills required for practice as an entry-level practice medical laboratory scientist.
The student will be able to apply managerial concepts, troubleshooting techniques, and problem solving strategies related to entry-level practice as a medical laboratory scientist.
The student will be able to recognize professional behaviors vital for practices as an entry level Medical Laboratory Scientist.
The student will incorporate principles related to UND student learning goals (ex. Essential Studies).
Graduate MLS Learning Goals
Students will understand the role of the clinical laboratory in producing positive patient outcomes, and be able to communicate that role within a team of healthcare professionals.
Students will be prepared to identify, critically assess, and/or problem solve issues related to professional practice in the field.
Students will demonstrate knowledge of an advanced scholarly curriculum that encompasses the scope of practice in medical laboratory science.
Students will build professional communication skills to be utilized across multiple topics of disciplines.
Accredited MLS Program
The UND MLS program is fully accredited by the National Accrediting Agency for CLS (NAACLS) located at 5600 N River Rd, Suite 720, Rosemont IL, 60018-5119.
MLS Student Feedback
In post-graduation surveys of the program, our alumni report feeling that the MLS program prepared them well for clinical practice, and that they are glad they chose UND for their education. Here are a few of those comments:
"I'm very proud that I went to UND for MLS. It was definitely the best decision for my education."
"I'm so thankful for graduating from UND MLS. My superiors hold me at a higher standard because of it."
"Fantastic program! Wouldn't imagine going anywhere else."
"Keep doing what you are doing! I see on a daily basis the outcomes of many other programs and there truly is no comparison to the level of preparation that UND students have compared to the students from other programs."