Curriculum
Didactic Conferences
This Week in SCORE (TWIS) - two year cycle of topics providing a systematic way to review the breadth of surgical content.
Trauma Rounds - Monthly presentation and discussion of trauma cases.
Morbidity and Mortality (M&M) - Weekly presentation and discussion of surgical complications.
Grand Rounds - Weekly presentation of various topics by residents, faculty, and visiting professors. View recorded presentations: https://capture.med.und.edu/Mediasite/Channel/undsmhs-surgery-grand-rounds
Tumor Board - Multidisciplinary discussion of various cancer cases.
ABSITE Review - Practice sessions utilizing question banks concentrated in the months prior to the exam.
Journal Club - Monthly discussion of various peer-reviewed publications selected by residents and faculty.
Simulation
Robotics - Virtual and dry lab simulations.
Fundamentals of Laparoscopic Surgery (FLS) - Our program is a designated testing center. hyperlink to FLS page. https://www.flsprogram.org/.
Fundamentals of Endoscopic Surgery (FES) - Our program is a designated testing center. Link to FES page: https://www.fesprogram.org/.
Certifying Examination Preparation
Oral board practice sessions - low stress small group sessions with faculty to review strategies for the oral board.
Real time mock oral board simulation - high fidelity simulation to re-create the certifying examination as closely as possible beginning in the third year of training.
Annual Mass Casualty Incident Drill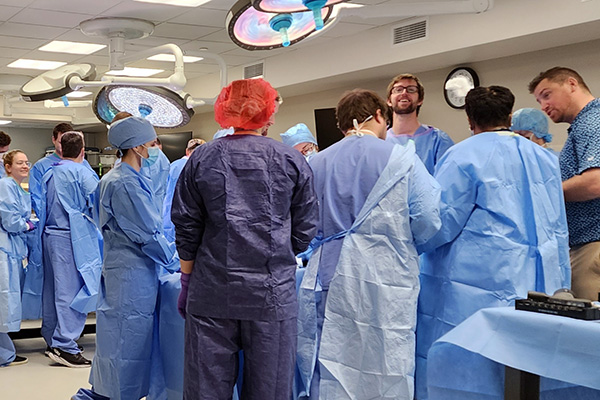 Sponsored chest stabilization lab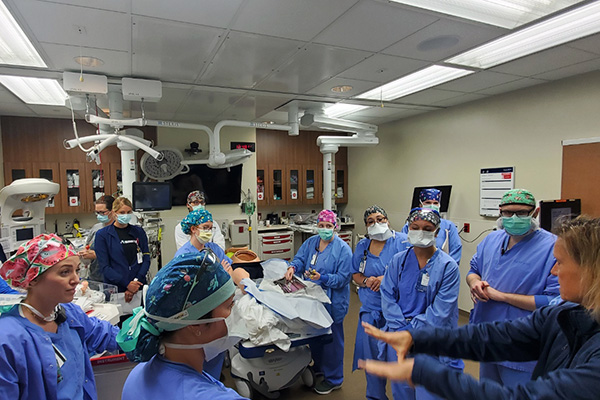 Multidisciplinary high intensity / low-frequency scenarios simulation