Internal Medicine Research
Clinical Epidemiology & Community Health Group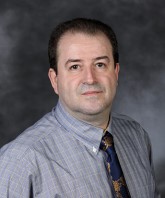 A letter from Dr. Abe E. Sahmoun, Director of Internal Medicine Research Affairs
Welcome to the Epidemiology & Community Health Group in the Department of Internal Medicine at the UND School of Medicine & Health Sciences (SMHS). We have identified two distinctive aims for this collaborative group:
Enhance scholarly activities: This consists of improving fourth-year medical students, residents and community clinical faculty publications/presentations; and
Promote clinical research: This will be achieved by bringing together the community clinical faculty expertise and researchers into a unified and concerted action on disease prevention and quality of care.
We have established collaborations with colleagues from the UND departments, the North Dakota USDA branch, the North Dakota state health department, and hospitals throughout the state. Most of the team members also participate in the teaching mission of the SMHS.
We relish the opportunity to actively engage the clinicians and the researchers in efforts to further improve the health of the North Dakota communities and quality of care through scientific studies.
The Clinical Epidemiology & Community Health Group has already identified a unique role for itself within the SMHS, and looks forward to achieving its goal of expanding and reaching national recognition in clinical research.
I appreciate your visit and I look forward to sharing our accomplishments with you in the near future.
Abe E. Sahmoun, Ph.D.
Director of Internal Medicine Research Affairs