Wana Wota: Let's eat!
What started as an idea for a class project has blossomed into a full-blown nonprofit organization for a recent graduate of UND's Department of Social Work. In 2018, Patrick Schmid, '20, was finishing up his associate degree from Cankdeska Cikana Community College in Fort Totten, N.D., on the Spirit Lake reservation. He witnessed friends and peers unable to afford a meal in the cafeteria, eating sugar and creamer packets from the coffee bar.
"There was an issue of food insufficiency. On the reservation, people are going hungry," Patrick said. And it made him angry. Recalling a recent class discussion, he decided to take action. "It started over this little classroom idea of having a snack shelf at the college – you know, somewhere to get a granola bar, soup cup, or fruit."
Following an initial conversation with Great Plains Food Bank, he realized he needed to think bigger to impact change. After all, college students weren't the only ones going hungry – he knew of many people in his community who didn't know where they would get their next meal.
"So, I said, well the heck with it. I don't know anything about starting a nonprofit, I don't know anything about Great Plains Food Bank, and don't know anything about this paperwork, but I'm gonna do it."
And the Wana Wota Food Pantry was born.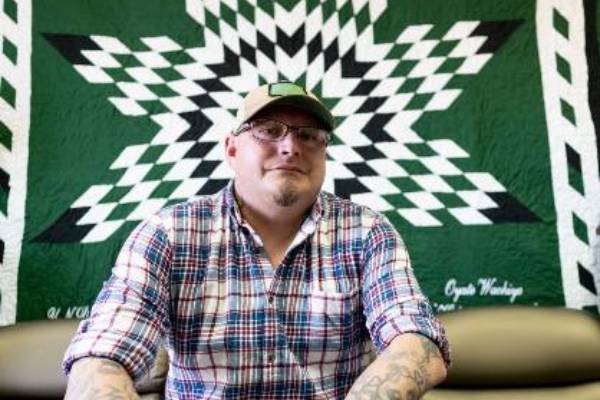 168,331 tons and counting
On Jan. 11, 2019, a truck carrying 18,006 pounds of food rolled into the parking lot of Spirit Lake Casino, 10 miles south of Devils Lake, North Dakota.
"It was one of the coldest days of the year. I'm sitting there like, 'What am I gonna do with this?' But then I looked around the corner and we had cars backed up for a couple miles," Patrick said, noting that cars were still in line when the truck was empty. Serving both Native American and non-Native people of all ages, the Wana Wota food pantry saw its impact firsthand from Day 1.
"Hunger has no face. It doesn't discriminate," Patrick said, echoing his nonprofit's mantra.
To date, Wana Wota – a Dakota phrase meaning "let's eat" – has distributed nearly 169,000 tons of food to the Spirit Lake and Lake Region area at pop-up style events every other month or so. Since its start, Patrick completed his bachelor's degree in social work through UND's College of Nursing & Professional Disciplines, driving the 180-mile round trip to continue his education as a nontraditional student in his late 30s. Here, he broadened his network and expanded his knowledge of nonprofit work and community-building.
He co-founded the Indigenous Social Work Coalition, with the goal of creating a community for Indigenous social workers and other professionals in the Grand Forks area. At UND, "the vibe was just really cool. My time there made me wish that I would have had my act together when I was in my 20s and my teens."
Visit Wana Wota's Website
From 'hellraiser' to helper of the people
In just seventh grade, Patrick dropped out of school. "I was kind of a hellraiser growing up," he said.
In trouble with the law from a young age, he ended up in juvenile detention and landed in prison before he reached adulthood.
From behind bars, he achieved his GED.
But with every step forward, he took another two back, spending years in a cycle of incarceration, addiction, and failed relationships. "I had just completely lost. It just seemed like no matter what I did, nothing ever worked," he said. "I had every excuse in the book, and I had no place left to go."
During a stint on the outside in which he would work 15-hour days at construction sites and go to the bar all night, he contracted the H1N1 flu virus. He flatlined, and was put into an induced coma. Defying doctors' odds, Patrick eventually recovered.
After meeting his now-fiancé Lindsey, he slowed his life down. She, along with his friend and mentor Art Carmona, convinced him to attend Cankdeska Cikana Community College, where he became an HVAC/R (heating, ventilation, air conditioning, and refrigeration) technician. Once again working manual labor, Patrick experienced a series of separate injuries – blowing out his shoulder, crushing several vertebrae, and damaging his legs to the point that he needed a double hip replacement. The young man learned he had avascular necrosis, the death of bone tissue due to a lack of blood supply. "I've never been given a clear answer as to how or why it happened, but I lived really hard for a really long time," Patrick said.
He went back to his community college, this time to study social work, and set the stage for his future.
"I'm more aware of my surroundings, more aware of community issues, more aware of who I was and who I was becoming, because of my education. There were some really, really hard self-realizations. Those classes weren't easy for me, not even a little bit. It hit too close to home."
At 26 years old, he met his biological family and enrolled in the Spirit Lake Sioux Tribe. There on the reservation, he found a community of support for the first time in his life. Last year during a spiritual ceremony, he was given the name Oyate Waokiye – Helper of the People.
On the right PATH
Today, Patrick's "day job" is PATH coordinator for a six-county region that contains both Spirit Lake Nation and the Turtle Mountain Reservation in North Dakota via the Lake Region Human Service Center. He works in areas of addiction, mental health, and homelessness – and he's found his calling.
"I freaking love it. If they didn't tell me to go home at the end of the day, who knows how long I'd stay at work?" Patrick asked.
His professional experience is highlighting another area of concern in his region: homelessness. With no shelter and a growing number of homeless during the COVID-19 pandemic, Patrick and the Wana Wota board are doing the hard work of fundraising while searching for a permanent location for the food pantry that could also provide the space for a homeless shelter.
Patrick hasn't allowed his past to cripple his future. On the contrary, it has helped him empathize with those around him. And true to his name, the Helper of the People is meeting the needs of his community the way he's always taken on a challenge: through trial, error and sheer perseverance.
— by Alyssa Konickson
for UND Alumni Foundation Magazine