About INMED
Indians Into Medicine (INMED) is a comprehensive education program that assists American Indian and Alaska Native (AI/AN) students who are preparing for health careers.
Overview
INMED provides academic, personal, social, and cultural support for students in grades 7 through graduate studies. Each year, INMED enrolls an average of 100 health, pre-health, and allied health students in various academic programs.
The Alpha Omega Alpha Honor Medical Society gave UND SMHS a 2019 Award for Excellence in Inclusion, Diversity and Equity in Medical Education and Patient Care based on the strength of the INMED program. The SMHS was one of only four medical schools in the U.S. to receive the award that year.
Purpose and Mission
The INMED program was established at UND in 1973 to address three major problem areas in AI/AN health care:
Too few health professionals in AI/AN communities
Too few AI/AN health professionals
The substandard level of health and health care in AI/AN communities.
INMED is designed to increase awareness and motivation for health careers among AI/AN students by developing academic programs and recruiting and enrolling students in the proper curricula. INMED provides academic, social, and cultural support to assist students in successful completion of their programs of study.
INMED assures that it addresses the needs and concerns of tribal communities in its five-state region through the Tribal Advisory Board (TAB). The tribal governments of all 26 tribes in North Dakota, South Dakota, Nebraska, Montana, and Wyoming appoint representatives to TAB.
History
In 1972, there were only 26 American Indian physicians and one Indian dentist in the country. UND SMHS Research Director Gary Dunn and Dr. Robert Eelkema, who was professor and chairman of community medicine and rural health had an idea to change that. They envisioned a program that would recruit, train, and graduate American Indians into the health professions with the goal that they return to reservations or other underserved rural communities to practice. Dunn and Eelkema gained the input and support of many at UND, including UND President Tom Clifford, Chair of the Indian Studies Department, Art Raymond, and Eelkema's former medical school classmate of Dr. Lionel Demontigny. Demontigny, the first American Indian graduate of the UND SMHS, knew first-hand the challenges Native people faced entering the health professions. The team secured grant funding in 1972, hired the first INMED Director, Dr. Lois Steele, and INMED was born.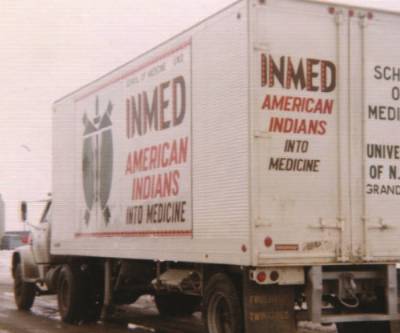 Dr. Steele helped organize INMED's "traveling medicine show" of American Indian health professionals that road-tripped to reservations across the Upper Midwest
The first year, INMED had five students. The first INMED medical student graduate was Michael T. Vandall of the Yankton Sioux Tribe of South Dakota on May 8, 1976. Over the past almost 50 years, INMED has supported the graduation of more than 250 American Indian physicians and 300+ health sciences students.
The original symbol of INMED is the staff and serpent of the medical professions forming the backbone of a round green turtle, which represents long life in the American Indian tradition. The new INMED logo features the turtle in a medicine wheel, which is symbolic of the wholeness of life. The four colors represent the qualities of a balanced life: spiritual, physical, emotional, and mental. What happens to one part of the circle affects the whole circle. A full-color logo was created for INMED, and a beaded version was then painstakingly created by Dr. Siobhan Wescott, INMED Assistant Director.
Programs
INMED administers summer and academic year programs for students in grades 7 through graduate and professional studies. The Summer Institute is a six-week residential academic enrichment program for American Indian students in grades 7 through 12 who are interested in health careers. Med Prep is a summer program for students preparing to take the MCAT examination and will soon be applying to medical school. The goal of the Med Prep program is to develop a cohort of AI/AN students each year who are successful in gaining entrance in medical school while developing a sense of community among the participants. CLIMB [Career and Life Instruction for Matriculation Building] is a pre-matriculation program for INMED students accepted to the UND medical program. The program is aimed at getting students acclimated to the rigors and culture of medical school while developing a sense of community and support before the start of medical school.
Undergraduate, graduate, and professional students enrolled in INMED have access to a number of student support services including academic advising, individual tutoring, emergency financial loans, advocacy, activities and presentations, and an honoring ceremony upon graduation. INMED has collaborated with internal and external partners to obtain set-aside positions in the University of North Dakota medical program (7) and the University of South Dakota Medical School (2) for 9 potential incoming AI/AN medical students each year. INMED also has secured seats in other graduate health science programs at UND including physical therapy (2), occupational therapy (2), and public health (2).