INMED Remembers Dr. Vernon Azure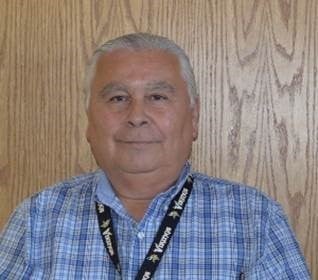 It is with heavy hearts that INMED shares the news of the passing of Dr. Vernon Azure, an alum and friend of the program.
Dr. Azure, an enrolled member of the Turtle Mountain Band of Chippewa, grew up in Belcourt, North Dakota, and experienced first-hand the shortage of doctors in Indian country. After graduating from Turtle Mountain High School as valedictorian of the class of 1972, he headed to the University of North Dakota.
"INMED was just getting started at the time and I thought it'd be a good program, a way I could become a doctor and work at home," Dr. Azure said in a 1983 newspaper article. He participated in INMED as an undergraduate and professional student. He graduated from UND with a B.S. degree in Natural Science with a minor in Indian Studies, and then with an M.D. in 1988.
Dr. Azure did return home to work. He served as the clinical director and chief of staff at the Quentin N. Burdick Memorial Healthcare Facility in Belcourt and worked at the Great Plains Indian Health Service. He remained involved in the program as a mentor to INMED students, welcoming them to the facility and to his home.
"It was clear in the short amount of time I spent with him that his focus was to improve the health and lives of Natives," says Dr. Cassandra Paden, who worked with Dr. Azure as a third-year medical student. "He was very supportive of all the INMED students and willing to go out of his way to give advice and let us know that we can get through medical school even if we didn't take a typical path."
Dr. Kelvin Dan remembers his time spent with Dr. Azure during his third-year rotation at Belcourt.
"I admired his passion for caring for Native American patients,," said Dan. "I try to be like him and speak on patients' behalf as an advocate. I definitely looked up to him as a physician and a person."
Dr. Azure's many hobbies included sports, fishing, and attending art shows with his wife, Margaret, an artist, and attending pow wows to watch his six grandchildren dance.
Dr. Azure will be greatly missed by his INMED family of staff, faculty, and students.