Indigenous Faculty Fridays: Kathleen Fredericks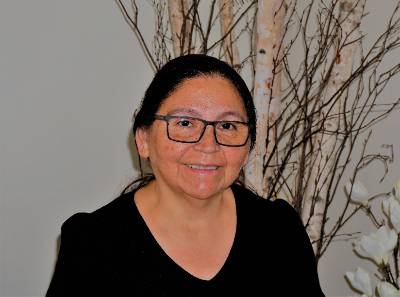 Alma Mater: UND.

Favorite Science Fact: My favorite science fact is how laughter is good for us. We've all experienced how a good laugh can put us in a better mood or ease our minds when we're feeling stressed. This comes from endorphins, the brain's "feel – good" chemicals being released from the brain.
What did you pursue before you worked in higher education? Prior to joining the INMED family, I pursued a career in education at the elementary school level. Some of the places I taught at include my home reservation; the MHA Nation, Standing Rock Reservation, and for the El Paso Independent School District in El Paso, Texas. I also served as coordinator for the Grand Forks Public School District's Indian Education Program.
Was there a mentor or someone in your life who helped or guided you? Throughout my educational journey at UND, Dr. Mary Lou Fuller (retired UND Professor) served as my mentor and inspiration. She taught me how to be the best advocate I could be for students by exemplifying excellence in her teaching as well as being an outstanding role model for all of her students. Dr. Fuller encouraged me and lifted me up when I needed a support system. When I hesitated to accept her generosity or kindness, she'd respond with, "Someday you will do the same for your students."
What was the biggest difficulty you encountered on your path (and how did you overcome it)? During my last year of undergradate school I lost a brother from an auto-accident and I wasn't sure if I wanted to continue my teacher training at UND. My world had been turned upside down and it felt like I had nowhere to go to get rid of my hurt. It was my first experience with losing a loved one that close. Dr. Fuller was like a guardian angel who watched over me and convinced me to stay in school – she was there for me personally and academically. To this day I still keep in touch with her and enjoy our conversations, especially when we can get together for a visit.
What's the best part about working with students? The best part about working with students is listening to their stories and getting to know them on a personal level. Watching them develop and earn advanced degrees, knowing that I recruited them to UND makes my position very rewarding.
Any particular areas of focus in your work? More recently, my role as student advisor has changed from focusing on medical students to undergraduate students in allied health fields. My new focus with undergrads will be a good change for me. Knowing the criteria of medical school, I am better suited to help undergrads achieve their goals.
What do you want people to know about pursuing a career in medicine / public health / higher education? In my eighteen years with INMED, I've seen plenty of students come through our doors. What I've noticed is that the students who excel are the ones who are focused, driven, and passionate in their course of study and career goals. I believe students have to be honest with themselves and understand the sacrifices and demands that come with such a prestigious degree.
What are you passionate about? My greatest passion is being a mother. My son has given me purpose and he has helped me to be the best person I can be. I am proud of his drive and to see the accomplishments he's achieved for himself.
Anything else you want us to share? I am grateful for the many blessings and opportunities that the Creator has given me. I especially feel grateful for meeting and serving so many talented program participants who have come through INMED. Today, many are alums working out in Indian country taking care of our people.