Core Equipment
We are using the web tool Booked for booking use of lab instruments. To gain access, please login using your current NDUS ID credentials. If after logging in you find that you are unable to sign up for an equipment you have used in the past, please contact the Core here to remedy the situation.
Lastly, certain pieces of equipment (i.e. FPLC and Droplet-Digital PCR) require prior training from a Core staff member before use. Please read below for more information on training.
Instrument Use
Equipment will be available on a first-come-first-serve basis and usage time must be scheduled with the Genomics Core (GC) prior to setting up. If you are found using an instrument that you have not signed up for, you will be barred from using Core resources in the future. This is not negotiable.
Facility equipment is available during normal business hours for use unless prior arrangements have been made. Access to the GC is restricted after hours as C0ore personnel are not available to deal with any equipment issues or malfunctions. This is for the safety of the equipment AND you!
All instruments should be clean and in working order. Controls should work appropriately. Manuals for all equipment should be nearby and accessible for all. Please let us know if these conditions are not being met.
Training
All labs and persons using facility equipment must be trained by an GC staff member. Training is provided by appointment only. Equipment specific standard operating protocols and training acknowledgment form(s) will be issued during training. Please contact the Core here to arrange a training session for the required instrument(s).
Promega Maxwell RSC Automated Extractor
The Maxwell RSC is a compact, automated instrument that can process up to 16 samples simultaneously for nucleic acid purification. It offers consistent and reliable RNA or DNA extraction.
Agilent 2100 Bioanalyzer
The Agilent 2100 Bioanalyzer system provides sizing, quantitation and quality control of DNA, RNA, and proteins. Agilent's chip technology allows for electrophoretic analysis of protein and nucleic acids using very low (1-4uL) sample volumes.
Agilent TapeStation
The Agilent TapeStation is automated electrophoresis in the solution system for quality assessment of DNA and RNA through analysis of fragment size distribution. It can analyze the size, quantity, and integrity of the samples. It uses 1-2 ul of the samples and takes about 1-2 minutes per sample to analyze. The system has 16 lanes where each sample is analyzed individually, which eliminates contamination and carryover. Anywhere from 1 to 96 samples can be analyzed at a time.
D1000 (use for normal libraries)
Size range 35-1000 bp
Sensitivity 0.1 ng/ul
Analysis time 16 samples: <20 min, 96 samples ~100 min
Genomic DNA (ATAC-seq or DNA)
200 bp-60000 bp
Sensitivity 0.5 ng/ul
Analysis time 16 samples <25 min, 96 samples <150 min
Qubit 2.0 Fluorometer
The Qubit 2.0 Fluorometer quantitates DNA, RNA, and protein with unprecedented accuracy, sensitivity, and simplicity. It is designed for molecular biology labs that work with precious samples that are rare or difficult to process, and applications requiring precise measurement such as real-time PCR and sequencing applications.
BioTek Gen5 Wellplate reader with Quant-iT Picogreen kit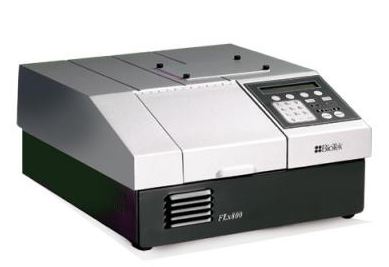 Quant-iT Picogreen kit is an ultrasensitive fluorescence nucleic acid stain that is used for calculating the quantity of dsDNA in a solution. This kit is read by the BioTek Gen5 wellplate reader and is used after the bioanalyzer to get a better concentration of User-Prepared libraries prior to Digital Droplet PRC. Samples of the same project are normalized and then the pooled sample will be run on droplet.
Agilent Bravo
The Bravo is a liquid handling system that automates sample preparation
BioRad QX200 Droplet Digital PCR System
The QX200 Droplet Digital PCR (ddPCR) system provides absolute quantification of target DNA or RNA molecules for EvaGreen or probe-based digital PCR applications. Droplet Digital PCR is a method for performing digital PCR that is based on water-oil emulsion droplet technology. A sample is fractionated into 20K droplets, and PCR amplification of the template molecules occurs in each individual droplet. This massive sample partitioning is what allows for absolute quantification and detection of very low abundance targets.
GridION X5
GridION X5 (Oxford Nanopore technologies) is a compact benchtop system designed to run and analyze up to five MinION Flow Cells simultaneously. This instrument can generate 150 Gb of data per run, and the compute module can analyze that data in real time. GridION X5 can sequence DNA and RNA directly, which enables direct identification of modified (for example, methylated) bases during sequencing.
The long-read sequencing instrument will enable highly accurate profiling of tumor genomes to generate new insights into the origin and progression of various cancers. The long-read technology will help investigators characterize long-range genomic variations including phase variants, the genomic context of CNVs (Copy number variants), exact breakpoints of inversions, insertions, deletions, and translocations, and the full sequence of unstable microsatellite instability biomarkers.
VolTRAX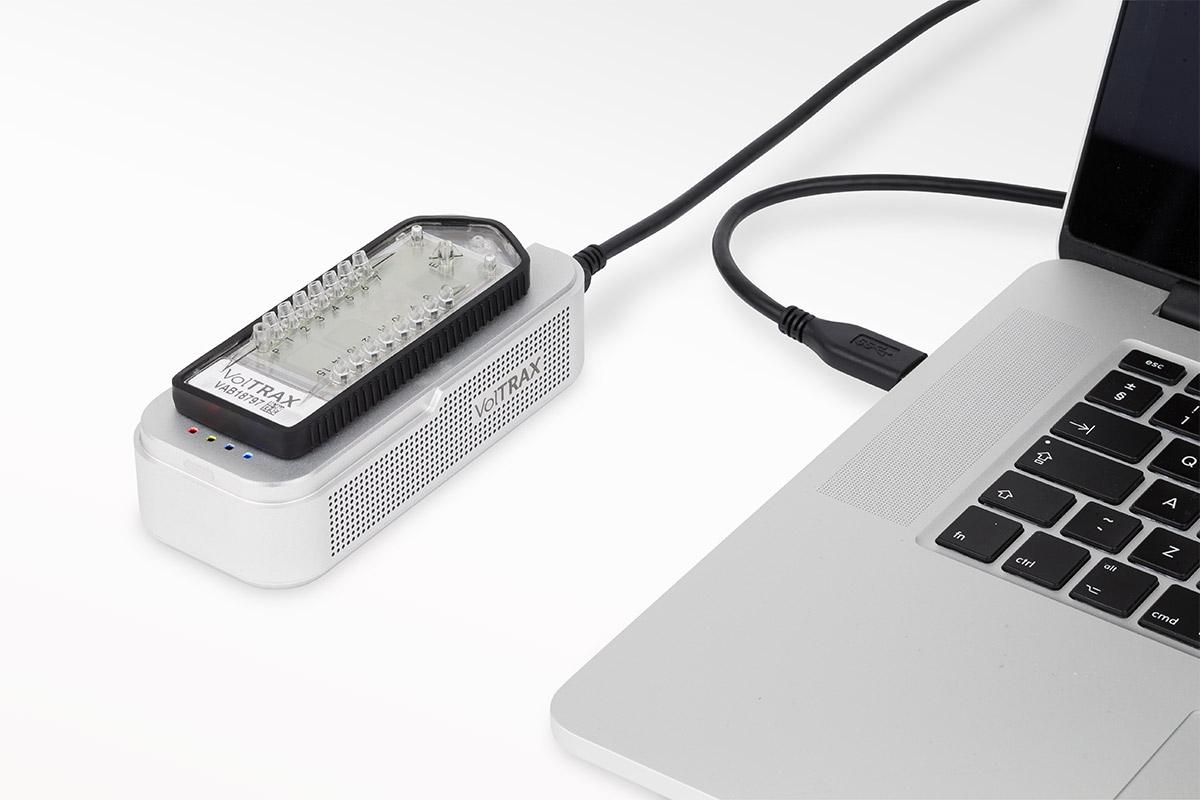 VolTRAX (Oxford Nanopore technologies) is a small device for automated library preparations suitable for Nanopore sequencing that will be used in conjunction with the GridION instrument. Gaining the capability for automatic handling of customer libraries will improve consistency throughout the sequencing workflow, directly addressing the need for rigor and reproducibility.
Illumina MiSeq
The MiSeq desktop sequencer allows for focused applications such as targeted gene sequencing, metagenomics, small genome sequencing, targeted gene expression, amplicon sequencing, and HLA typing. MiSeq sequencing kits enable up to 15 Gb of output with 25 M sequencing reads and 2x300 bp read lengths.
10X Chromium System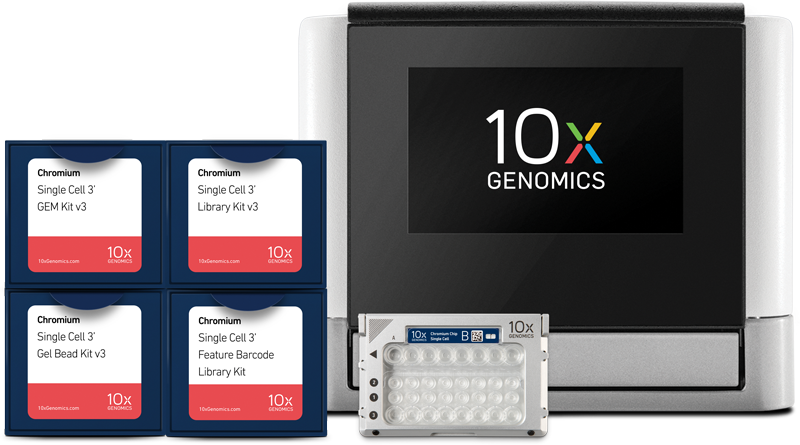 10X Chromium system (10X genomics) is a small tabletop instrument which is can efficiently combine large cell numbers with a massively diverse barcode library to generate >100,000 barcode-containing cells in a matter of minutes. These barcoded cells are compatible with Chromium Solution, from genome to single cell analysis and useful for single-cell expression profiling, ATAC-Seq, exome sequencing, CNV detection single cell, de novo genome assembly.
Aplegen Omega Lum™ C Imaging System
The Omega Lum C Imaging System combines fluorescent gel and chemiluminescent imaging into one compact system.
Agilent AriaMx Real-Time PCR System
The Aria is a fully integrated qPCR system for amplification, detection, and data analysis that also has a termal cycler and data analysis software
BioRad CFX384 Touch Real-Time PCR Detection System
The CFX384 Touch real-time PCR detection system combines the C1000 Touch™ thermal cycler with the CFX384™ optical reaction module to bring ease of use and rapid data acquisition to researchers performing high-throughput real-time PCR in a 384-well format.
BioRad NGC Quest™ 10 Chromatography System
The NGC Quest 10 Chromatography system is designed for basic purification needs. It includes 10 ml/min pumps, single-wavelength (UV) and conductivity detection, and automated sample injection, for the purification of proteins.
Covaris S220 Focused Ultrasonicator*
The Covaris S220 Focused-Ultrasonicator is engineered for pre-analytical sample processing with Covaris' patented Adaptive Focused Acoustics. This instrument is capable of several biological applications, i.e. DNA, RNA, and chromatin shearing, tissue homogenization, cell lysis, compound dissolution, and particle micronization.
*While the Covaris is available for use by Core personnel, access is restricted to individuals who have been granted prior approval. To use this instrument, please contact Dr. Archana Dhasarathy or Dr. Sergei Nechaev.*
Thermo Scientific Sorvall™ MTX 150 Micro-Ultracentrifuge
Conduct more high-capacity experiments in less time with the Sorvall MX 150 Micro-Ulltracentrifuge. Cutting-edge technology combines high-speed performance, versatile rotor capacities and a compact footprint. This ultracentrifuge features excellent processing capacity and sample separation performance up to 1,048,000 × g.
BioRad T100 Thermal Cycler
The T100 thermal cycler is a small thermal cycler offering a comprehensive set of convenient features in a small footprint.
BioRad Personal Molecular Imager (PMI) System
The Personal Molecular Imager system is the most flexible isotope imaging and laser scanning system available, offering radioisotopic imaging using your choice of storage phosphor screen.
LI-COR Odyssey Fc Dual-Mode Imaging System
The Odyssey Fc Dual-Mode Imaging System features two infrared fluorescence detection channels enabling quantitative two-color target analysis for Western blots and chemiluminescent imaging using one-button image acquisition.