Resources
The Simulation Center is state-of-the-art teaching facility with 19 high fidelity human patient simulators and six medical rooms that can serve as an emergency room, intensive care unit, or regular hospital room.
The environment is created to be as real as possible.

Also located in Simulation Center are clinical examination rooms. Students from the School of Medicine & Health Sciences use the area regularly for training and assessment activities. Along with simulators and exam rooms, we also have a real ambulance called the 'simbulance'.
SimBaby is an advanced infant patient simulator for team training. She has realistic anatomy and clinical functionality. SimBaby allows learners to practice and perfect their infant skills in a risk-free environment. SimBaby has:
Realistic airway and allows training for all aspects of infant airway management
Capability to replicate tongue edema, pharyngeal swelling, and laryngospasm.
Spontaneous breathing patterns and complications
Peripheral and intraosseous IV therapy
Capability of becoming cyanotic
Normal and abnormal cardiac rhythms and the capability for live defibrillation
Change in findings of fontanel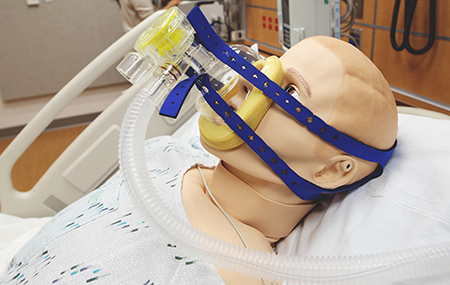 SimMan 3G is a portable advanced patient simulator that provides for flexibility in simulation-based education. SimMan has a realistic anatomy and computer technology that mimics usual human physiological responses. SimMan 3G has:
Multiple airway features and skill training
Airway and breathing features, as well as complications
Cardiac and circulation features
Vascular Access
Real-time CPR
Responsive to pharmacology treatments
Pupillary response
Bowel sounds
Multiple secretion sites (urine, sweat, nasal, CSF, etc.)
Seizure capability
Automatic or manual vital signs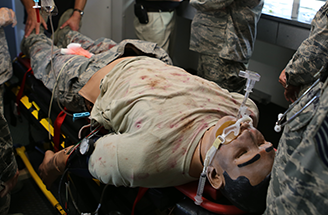 METIman is a Prehospital training human patient simulator. They built tough to withstand a wide variety of real-life, indoor and outdoor learning environments. He has capabilities for:
Airway management and complication
Bilateral pulses
Cardiac and respiratory normal and abnormal
Bowel sounds normal and abnormal
Full articulation of extremities and neck
Changeable external genitalia with urinary output
Reactive pupils
Multiple IV cannulation sites
Chest tube placement and Needle decompression
Ability for realistic trauma and wounds with bleeding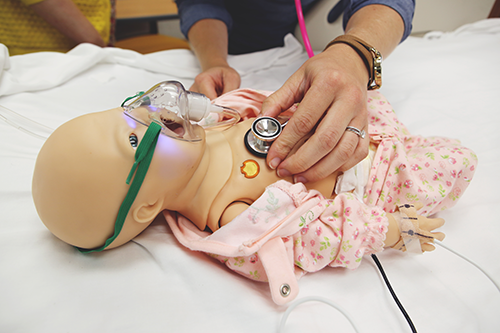 Hal is a fully wireless infant simulator that responds to physiologic modeling and trending. He includes normal and abnormal cardiac and respiratory features. His color and vital signs are responsive to hypoxic events and interventions. Hal gives learners the ability to apply their skills in a real-time, risk-free environment. He can be used for:
APGAR scoring.
IV training
Oral and nasal intubation
Umbilical pulse
Pulses
Crying and convulsions
Inter-changeable genitalia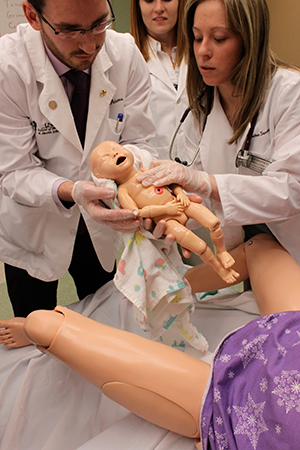 Noelle is designed to provide a complete birthing experience before, during, and after delivery. Noelle has:
Normal and abnormal heart sounds
Normal and abnormal breathing
CPR responsive
Normal and abnormal childbirth
Postpartum hemorrhage
Episiotomy trainer
Cesarean section trainer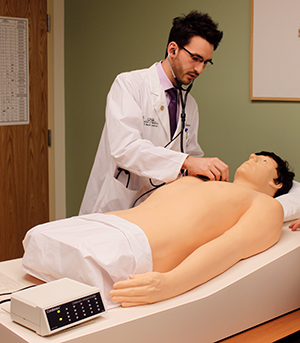 Harvey is a proven simulation system to teach bedside cardiac assessment skills that transfer to real patients. The cardiopulmonary simulator features:
Blood pressures, pulses, heart sounds and cardiac murmurs
Six breath sound areas
Nine cardiac auscultation areas
30 cardiac diseases
Twelve impulse areas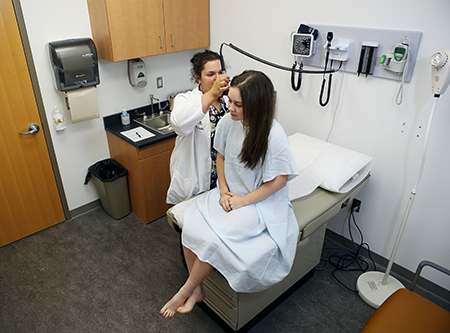 There are 14 examination/interview rooms with one-way windows. Technology in the exam room area allows for the audio-visual recording of student and patient encounters.
The "simbulance" environment can be simulated to take the patient to surgery and on into intensive care. The simulated event is recorded for playback and evaluation following the event, when memories and emotions are fresh. The event provides hands on learning for students and professionals that reinforce patient safety.