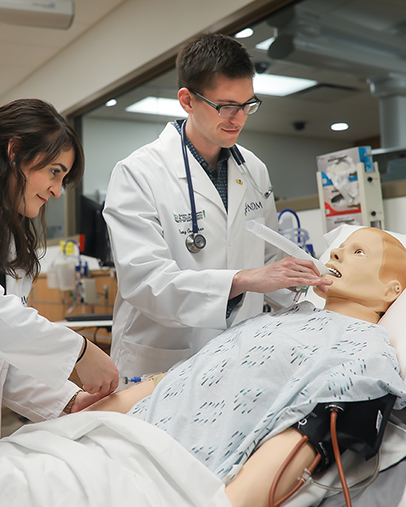 Simulation Center
The UND Simulation Center is a hands-on simulation training facility for multidisciplinary health care providers.
The state-of-the art simulation facility offers a clinical setting where health care professionals can actively apply their knowledge in simulation, observation, and debriefing of real-life patient scenarios, with the goal of improving patient safety and care.
The innovative facility is the only one of its kind in North Dakota and its mission is to use comprehensive resources in the use of interactive simulation in teaching, educating, and providing an arena for research in health care. The facility features:
Multiple high-tech manikins and computer technology to simulate real-life patients.
Collaborative learning in a realistic, clinical environment.
Innovative curriculum and training programs.
Facilitated debriefing on teamwork and performance assessment with video observation.
Vision & Mission
Vision: To be collaborative partners in the education of exemplary health care providers
Purpose: Provide quality evidence-based multidisciplinary healthcare education in a safe and engaging learning environment.
Mission: To use comprehensive interactive simulation for multidisciplinary healthcare education and research. To accomplish this the Simulation Center will:
Provide simulation based curricula for healthcare education and practice.
Advocate for and promote the advancement of patient safety.
Educate healthcare professionals in competency based healthcare.
Provide a laboratory for research to advance healthcare and education.
The Healthcare Simulationist Code of Ethics has been formulated by a global working group to support the quality and ethical practice of healthcare simulation around the world. The UND SMHS Simulation Center has formally adopted this code of ethics, and we aspire to hold ourselves accountable to its values.