Takaku Lab
Overview of Research Interests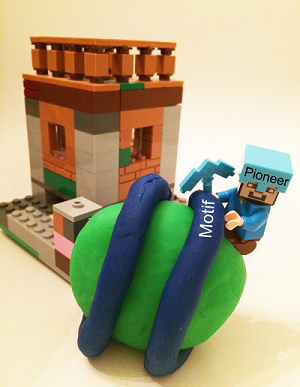 Our human genome consists of 3 billion DNA base pairs, packing into a tiny (~10 µm) nucleus. Chromatin is a tool for eukaryotes to enable this challenging packaging. The nucleosome is the basic unit of chromatin, which contains ~147 bp DNA wrapping around eight molecules of small proteins, called histones. Any DNA-mediated events (DNA replication, repair, transcription) need to take place on this chromatin structure. Therefore, chromatin structure is dynamically regulated by many chromatin associating factors including transcription factors and chromatin remodelers.
Misregulation of chromatin regulators is known to contribute various human diseases including cancer. Our research goal is to understand the fundamental mechanisms of gene regulation and DNA repair on chromatin, and how interruption of these processes lead to tumorigenesis and cancer progression.
We use genomics, biochemistry, cell biology, and mouse model to study gene regulation in cancer cells (Takaku et al. Nat Commun 2018; Takaku et al. Genome Biol 2016). We are currently focusing on a key transcription factor, GATA3. GATA3 is a prominent marker of luminal breast tumors and its lower expression correlates with poor prognosis in breast cancer. Recent large-scale genomic profiling identified GATA3 as one of the most frequently mutated genes in breast cancer, yet the function of these mutations is largely unclear. We are trying to understand the GATA3 function and impacts of its mutations in breast cancer.