School of Medicine & Health Sciences hosts UND Homecoming 2018 events
GRAND FORKS—As part of UND's Homecoming 2018 festivities, the School of Medicine & Health Sciences (SMHS) will host a series of events in the new SMHS building at 1301 N. Columbia Rd. in Grand Forks, including:
Continuing Education Symposium
Held in room W202 of the School from 8:30 a.m. to 11:30 a.m. on Friday, Sept. 21, the Continuing Education Symposium will focus on Infectious Disease. The symposium is open to all health care providers and will provide attendees with 2.75 continuing education or continuing medical education credits. The schedule is as follows:
Childhood Infectious Disease (8:30-9:25 a.m.)
8:30-9:00 – Miltadis Douvoyiannis, M.D., Altru Health System (Case Study and Presentation)
9:00-9:25 – Masfique Mehedi, Ph.D., UND Biomedical Sciences
Tuberculosis (9:30-10:25 a.m.)
9:30-10:00 – Avish Nagpal, M.D., Sanford Health (Case Study and Presentation)
10:00-10:25 – Shawn McBride, North Dakota Department of Health
Vector-Borne Illness (10:30-11:30 a.m.)
10:30-10:50 – Michelle Feist, North Dakota Department of Health (Case Study and Presentation)
10:50-11:10 – Catherine Brissette, Ph.D., UND Biomedical Sciences
11:10-11:30 – Cindy Janssen, Ph.D., OTR/L, UND Occupational Therapy and Nicole Willis, OTR/L, Altru Health System
Summary/Conclusion 11:30-11:35 a.m.
New Building Tours
The SMHS Office of Alumni and Community Relations will provide tours of the new SMHS building from 1 p.m. to 3 p.m. on Friday, Sept. 21. Tours of the new facility start in the main floor lobby and include the School's specialized imaging and mass spectrometry cores, which support a number of biomedical research areas within the SMHS, including neuroscience; neurodegenerative diseases such as Alzheimer's disease; molecular mechanisms of addiction, cancer, and inflammation; and host-pathogen interactions.
Tours will also include the SMHS Simulation Center. Guests can participate in self-guided tours and experience simulation in action.
Simulation, or the creation of realistic circumstances in order to teach skills and enhance competencies, is rapidly changing the face of healthcare education. For this reason, the Society for Simulation in Healthcare, of which the SMHS Simulation Center is a member, is sponsoring the second annual Healthcare Simulation Week, to be held Sept. 17-21, 2018. The purpose of Healthcare Simulation Week is to raise awareness about the importance of healthcare simulation in improving performance and reducing errors in patient care.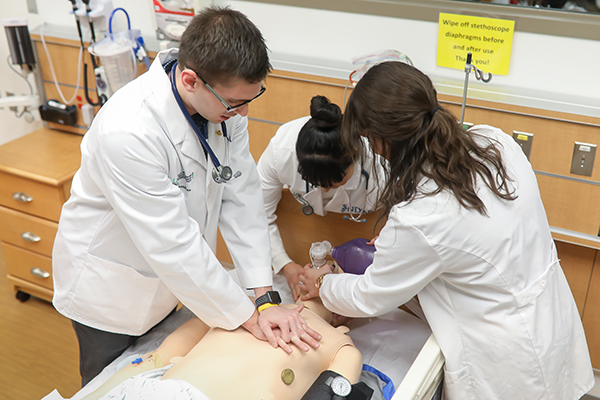 A Simulation In Motion-North Dakota (SIM-ND) mobile education unit—a custom built, 44 foot-long learning lab on wheels—will also be on-site for tours and to provide information regarding the SMHS state-wide simulation program. SIM-ND units bring simulation education to all third-year medical students training on SMHS campuses away from Grand Forks. Units also provide healthcare education to rural areas of North Dakota so emergency responders and other providers can upgrade their skills closer to home rather than leave their service area for training.
For more information on any of the days' events, contact Kristen Peterson at 701.777.4305 or kristen.peterson@med.UND.edu.
# # #
Brian James Schill
Assistant Director, Office of Alumni and Community Relations
University of North Dakota School of Medicine and Health Sciences
701.777.2733 direct
brian.schill@med.und.edu | med.und.edu