Doctor of Physical Therapy Class of 2020 begins clinical studies at SMHS
In a few short weeks, 53 physical therapy students, members of the Doctor of Physical Therapy (DPT) Class of 2020, will start the clinical studies portion of their journey to become doctors of physical therapy at the University of North Dakota School of Medicine and Health Sciences (SMHS). The students received their white coats at the Entrance Into Professional Service Ceremony on Thursday, July 12, at the Alerus Center.
The students, 33 women and 20 men, range in age from 21 to 42 years, with the average age of 23. Many are from North Dakota, and most completed their pre-PT coursework at UND.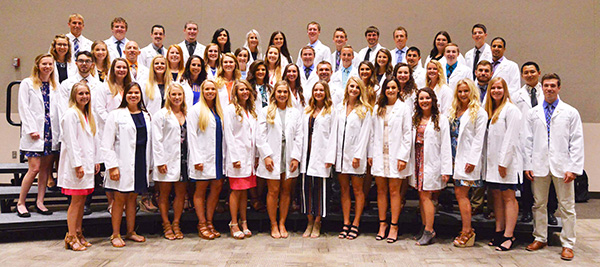 The ceremony's keynote speaker was Dr. Philip Johnson, owner of Orthopedic & Sports Medicine Specialists of Fargo, N.D. Dr. Johnson received his bachelor of science in physical therapy and doctor of medicine degrees from the University of North Dakota. He went on to complete a residency in orthopedic surgery at Kalamazoo Center for Medical Studies in Michigan and a fellowship in sports medicine at the University of Western Ontario in London, Ontario. Dr. Johnson is a member of multiple national and state medical societies and is currently the team physician for Team USA Hockey.
"The ceremony emphasized to the students the professionalism required in the clinic and within the physical therapy profession," said David Relling, PT, PhD, associate professor and chair of the SMHS Department of Physical Therapy.
After completing their first year of the professional component of the physical therapy curriculum, the students have to pass an intense, comprehensive examination of their knowledge before they begin their clinical studies. The first three years of the curriculum are considered pre-physical therapy (pre-professional). The professional component of the DPT degree requires three academic years and two summer sessions following completion of the 90-credit pre-physical therapy entrance requirement.
Clinical experiences are a crucial component of the UND physical therapy curriculum and take place at more than 300 clinical sites across the nation, the majority of which lie outside the Greater Grand Forks area. These experiences meld academic information with hands-on clinical experience. Students participate in direct delivery of physical therapy services in a variety of settings under the direction and supervision of one or more clinical instructors.
"Students are making the transition from being a student to being a health care professional," Relling said. "With that transition comes a great deal of responsibility and accountability to these new professionals and to their patients. For many students, this will be the first life experience they will have had that requires such a high level of professionalism and responsibility. We have trained them well, they have worked hard, and we anticipate they will do a great job working within a comprehensive, interprofessional health-care team."
The students and their hometowns are the following:
Sarah Lynn Biberstine, Berne, Ind.
Sarah Emily Bunde, Parkers Prairie, Minn.
Gerald John Ernest Carlson, Grand Forks, N.D.
Jairica D. Christjohn, Sisseton, S.D.
Chloe Jo Coleman, Bismarck, N.D.
Shawn Kenneth Danielson, Grand Forks, N.D.
Kathleen Ann Dennison, Grand Forks, N.D.
Zachary Tyler Drevlow, Gwinner, N.D.
Allison Marie Erdmann, Chanhassen, Minn.
Stephen Thomas Erlandson, Breckenridge, Minn.
Logan Lowell Flegel, Benson, Minn.
Alexandra Maie Gerlach, Ethan, S.D.
Katelyn Rose Hagen, Bloomington, Minn.
Kevin Paul Hansen, Kotzebue, Alaska
Heather L. Harrower, Nederland, Colo.
Nathan Takayuki Hasunuma, Honolulu, Hawaii
Mckayla Jean Haugeberg, Watford City, N.D.
Kaci Ann Hemmesch, Richmond, Minn.
Katie Marie Holzheimer, Holloway, Minn.
Keely Jen Hutchens, Dickinson, N.D.
Jamal Ibnelhaj, Fargo, N.D.
Christopher N. James, Spokane, Wash.
Taylor Jeanne Jamison, Apple Valley, Minn.
Blaize W. Kandler, Lakeville, Minn.
Ryan James Keller, Grand Forks, N.D.
Amber Anne Klein, Maplewood, Minn.
McKenzie Jo Klocke, Wahpeton, N.D.
Taylor Nichole Kunz, Berthold, N.D.
Shenae Kayleen LaCroix, Newcastle, Wyo.
Arianna Lee Larson, Garrison, N.D.
Erin Corinne Larson, Bemidji, Minn.
Karlee Fallon McCloud, Bottineau, N.D.
Kameron James McNary, Wahpeton, N.D.
Nathan Henry Mertens, Devils Lake, N.D.
Callen Stephen Mouritsen, Fergus Falls, Minn.
Natalie Elizabeth Murphy, Underwood, Minn.
Bailey Erin Neubauer, Bottineau, N.D.
Jamie Lynn Ronning, Valley City, N.D.
Trista Rae Saulter, Little Falls, Minn.
Carly Jo Elizabeth Schroer, Pierre, S.D.
Isaiah Reis Schwindt, Bismarck, N.D.
Kayla Lee Sendelbach, Cottage Grove, Minn.
Kayla Louise Smith, Bismarck, N.D.
Joshua Michael Still, Perham, Minn.
Shelby Lynn Stoltz, Dickinson, N.D.
Ross M. Swartz, Willmar, Minn.
Abigail Rose Thomas, Dassel, Minn.
Daniel Patrick Torok, Thompson, N.D.
Tyler Allen Trumble, Green River, Wyo.
Landon K. Uetz, Horace, N.D.
Katelyn Anne Voll, Warroad, Minn.
Kathryn Irene West, International Falls, Minn.
Ragen Clair Wilson, Laramie, Wyo.
Brian James Schill
Assistant Director, Office of Alumni and Community Relations
University of North Dakota School of Medicine and Health Sciences
701.777.2733 direct
brian.schill@med.und.edu | med.und.edu