Research
The Surgery Research Fellowship is a competitive program geared to surgery residents completing their PGY-2 year interested in surgical fellowships or an academic career.
This is a fully funded position offering salary at the level of PGY-2 residents and benefits.
Our fellowship has started in 2022 and our inaugural fellow is Dr. Hunter Row. Dr. Row is doing clinical outcomes research on cardiovascular patients under the mentorship of Dr. Cornelius Dyke.
From the Fellow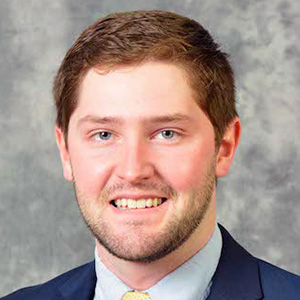 "This year, as the Sanford Surgical Research Fellow, I had the opportunity to spend dedicated time devoted to subspecialty research in cardiovascular surgery under the mentorship of Cornelius Dyke, M.D. My work has focused on outcomes after transcatheter valve replacement (TAVR), specifically focusing on vascular complications which can occur during the procedure. It has been very productive to date, and I feel our work will make a significant contribution to the field. Additionally, as someone with an interest in cardiothoracic surgery as a career choice, this year will greatly help my future application for fellowship positions. As someone born and raised in North Dakota, I hope to return to the region upon completion of my fellowship and feel that this year will help me do so. I have had great mentorship and support through both the University of North Dakota and Sanford Health who have partnered together to provide this opportunity. Although this year is devoted to research, I have remained an active member of the Department of Surgery at UND SMHS. I continued to participate in didactic lectures and attend weekly Morbidity and Mortality conferences, allowing me to stay in touch with my co-residents and attendings. In addition to broadening my surgical knowledge, I also have more time to spend with my family and friends. It has overall been an excellent experience. I highly recommend taking advantage of this unique opportunity that our surgical residency has to offer."
~ Hunter Row, M.D.
Program Details
Residents of our program that enter the fellowship will have their PGY-3 position guaranteed upon completion. External fellows would spend one academic year starting July 1 through June 30, at the end of which they will receive a Certificate of Completion by University of North Dakota School of Medicine and Health Sciences in collaboration with Sanford Health.
Visas can be awarded in selective basis.
Fellowship will be tailored to match applicant's research interests, and mentorship is provided by UNDSMHS department of surgery faculty with expertise in the area. During fellowship there is opportunity for clinical and bench research. Department has one dedicated laboratory assistant with plans to enlarge the infrastructure. We also have robust collaboration with our clinical site partners.
Contact
Tonya Murphy
Research Specialist
UND Department of Surgery
surgrschfellowship@UND.edu