Resident Representatives
Our residents excel as leaders and their involvement is crucial to the success of our program.
Our leadership structure includes three senior residents who serve as the Resident Representatives. These peer-elected residents sit on a variety of committees, playing an important role in building the culture of our program, spearheading new projects, addressing real-time resident concerns, and contributing to long-term strategic planning for program growth and improvement.
Dr. Ashmore completed medical school at Ross University School of Medicine. He plans to practice as a Dualist at Sanford Health Fargo following completion of residency. His professional interests include point of care ultrasound, palliative care and medical education. In his spare time, he enjoys fishing, foraging, homebrewing and playing guitar.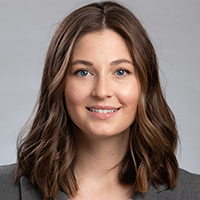 Anya de Leeuw, M.B.B.Ch., B.A.O.
Dr. de Leeuw is from Scottsdale Arizona and completed an undergraduate degree from Arizona State University in Anthropology. She then completed medical school at the University of Galway in Galway, Ireland. Dr. de Leeuw is planning to pursue cardiology fellowship after completing residency. Academic interests include cardiovascular disease, hospital medicine, and translational research. In her free time she enjoys horseback riding, making home made pasta, growing succulents and art history.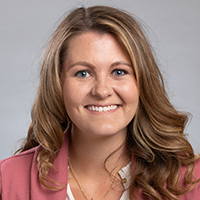 Dr. Thompson completed medical school at the University of North Dakota. She is planning to practice as a dualist in both the hospital and clinic settings at Sanford Health in Detroit Lakes, MN and Fargo after completing residency. Her academic interests include medical education, hematology/oncology, and palliative care medicine. In her free time Dr. Thompson enjoys spending time at the lake with her family, husband, and golden retriever as well as horseback riding, gardening, and traveling.