Ruit appointed SMHS senior associate dean for education, medical accreditation, and faculty affairs
GRAND FORKS, N.D. -- Kenneth G. Ruit, Ph.D., associate professor in the Department of Biomedical Sciences and associate dean for education and faculty affairs, has been named senior associate dean for education, medical accreditation, and faculty affairs at the UND School of Medicine & Health Sciences (SMHS).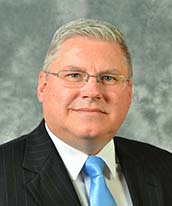 Among his existing responsibilities, in this new role Ruit will provide leadership, support, and oversight for accreditation and continuous quality improvement efforts at the SMHS. This means Ruit will support SMHS administration, faculty, staff, and medical students as they work to meet the accreditation requirements of the Liaison Committee on Medical Education (LCME) for the medical student educational program. He will also work with SMHS curriculum committees of the medical program on an ongoing basis to oversee and support the review and quality improvement of the curriculum; review the current and future LCME standards and elements through engagement with LCME; and lead the Office of Medical Program Accreditation and Quality Assurance (OMPAQA).
"Graduates from our high-quality programs and our faculty's scholarly achievements are impacting healthcare in North Dakota and nationwide every day," said Ruit, who with the new title is taking on the work of retiring SMHS Chief Accreditation Officer Dr. Stephen Tinguely. "That's a reflection of the value we place on fostering an environment where students and faculty members can achieve their personal and professional goals. This also shows our School's commitment to excellence and ongoing quality improvement – a value strongly emphasized by accrediting bodies like the LCME. I am excited to be given the opportunity to serve the School in this role."
Following an April 2022 site visit to the SMHS by the LCME, North Dakota's only school of medicine was given full reaccreditation status by in October 2022. This accreditation will last eight years, meaning the next full survey visit by the LCME will not occur until the 2030. Sponsored by the Association of American Medical Colleges (AAMC) and the American Medical Association (AMA), the LCME is recognized by the U.S. Department of Education as the nation's authority for the accreditation of medical education programs leading to the M.D. degree.
"Dr. Ruit has big shoes to fill as Dr. Tinguely retires from his accreditation role, but I have no doubt that he's up to the task," added Dr. Joshua Wynne, vice president of Health Affairs at UND and dean of the SMHS. "We're very excited about this move, which is part of a larger organizational adjustment at the School that should allow us to improve the School's functionality and efficacy while simultaneously reducing our expenditures."
Ruit received his Ph.D. in cell biology, neurobiology and anatomy from Loyola University of Chicago in 1989. A faculty member at the SMHS since 1991, he teaches human anatomy and neuroscience to undergraduate, graduate, and medical students. He has served UND in a variety of administrative roles since 1998. First serving as assistant dean for academic and faculty affairs in 2008, Dr. Ruit assumed the role of associate dean for education and faculty affairs in 2017.
Ruit has received many awards and honors in his time at the SMHS, including being named a Bush Foundation Teaching Scholar (2002) and receiving the UND Foundation/Lydia and Arthur Saiki Prize for Graduate or Professional Teaching Excellence (1997, 2005) and the North Dakota Spirit Faculty Achievement Award (2014). He has been named an Outstanding Block Instructor by SMHS medical students more than a dozen times. Ruit is active in educational research and served as associate editor for the journal Anatomical Sciences Education. He is involved nationally in institutional and program accreditation serving both the Higher Learning Commission and the LCME.
# # #
Brian James SchillDirector, Office of Alumni & Community Relations UND School of Medicine & Health Sciences 701.777.6048 direct | 701.777.4305 office
brian.schill@UND.edu | www.UND.edu