Mannuru voted inaugural clinical preceptor for the UND Preceptor Recognition Student Scholarship Program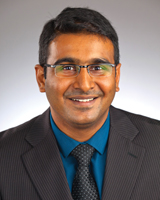 GRAND FORKS, N.D. — Dr. Devendranath "Dev" Mannuru, internal medicine clerkship director and associate program director for the UND School of Medicine & Health Sciences (SMHS) internal medicine residency, has been named the inaugural clinical preceptor for the SMHS Preceptor Recognition Student Scholarship Program.
The new Preceptor Recognition Student Scholarship Program is funded by a $100,000 endowment at the UND Alumni Association & Foundation that produces approximately $3,750 annually for medical student scholarships. It allows fourth-year medical students to select their favorite "preceptor" (or clinical instructor) based on their third-year clinical rotations.
Come graduation in May 2022, a scholarship will be given in Dr. Mannuru's name to the second-year student who earned the highest scores in the first 20 months (Phase 1) of their class's four-year curriculum. Current third-year medical students will get an opportunity to select a different preceptor next year, and a student from the MD Class of 2025 will receive a scholarship in that new preceptor's name in May 2023, and so on.
"I am honored and blessed to be voted as the inaugural clinical preceptor," said Mannuru, a physician at Sanford Health in Fargo who cites medical education and safe and effective patient-centered care as goals of his practice. "I feel genuinely content that students feel my educational efforts are beneficial to them and are shaping them to be compassionate and skilled physicians. I want to thank my wife and children for their support. Without them allowing me to do this work, I will not have the additional time to educate learners. Finally, I would like to thank UND and Sanford for providing the opportunities to educate learners. I will continue to share the knowledge and skill with all learners and develop great physicians ahead."
After completing his internal medicine residency at Bronx-Lebanon Hospital Center, an affiliate of Albert Einstein University, in Bronx, N.Y., Mannuru took up a job as a hospitalist at Hartford Hospital in Hartford, Conn., where he taught residents during their inpatient rotations. Mannuru has been a full-time hospital physician at Sanford since 2013.
In 2014, Mannuru began as a clinical assistant professor in the Department of Internal Medicine at the SMHS and was promoted to clinical associate professor in 2017. He has been core faculty for the Internal Medicine and Transitional Year Residency Programs since 2015, and was named the statewide internal medicine clerkship director in 2018. In 2020, he was named associate program director for the Internal Medicine Residency Program. He completed a one-year Global Clinical Scholars Research Training Program (GCSRT) at Harvard Medical School in 2020. He has been a physician advisor for clinical documentation integrity at Sanford Health since 2021.
Mannuru has received numerous awards for teaching, including the Outstanding Teacher of the Year Award for the SMHS Southeast Campus in 2020, Alpha Omega Alpha Volunteer Clinical Faculty Award in 2018, and Internal Medicine Clerkship Teacher of the Year Award in 2017. He has been twice given Sanford's Golden Stethoscope Award (2016 and 2020) and nominated for the health system's 2020 Friend of Nursing Award.
Mannuru is among the 1,300 part-time or volunteer clinical faculty in more than 30 communities throughout North Dakota who help to educate the nearly 300 medical students and residents based at the SMHS. In all, more than 70% of North Dakota physicians regularly teach at least one of the School's students in the hospital or clinical setting.
"Student debt remains a high priority for our School," added Dr. Marc Basson, senior associate dean for medicine and research at the SMHS. "We are excited to have this dual opportunity to both recognize an outstanding faculty member of Dr. Mannuru's caliber and to be able to identify a high-performing student and offset their debt. Donating is a great opportunity for those who have worked with Dr. Mannuru and benefited from his teaching to pay it forward to an upcoming physician."
Individuals or organizations looking to support UND's Preceptor Recognition Student Scholarship Program can do so by visiting: https://undalumni.org/clinicalpreceptor.
# # #
Brian James Schill
Director, Office of Alumni & Community Relations
University of North Dakota School of Medicine & Health Sciences
701.777.2733 direct | 701.777.4305 office
brian.schill@UND.edu | www.und.edu