Brown-Borg Awarded $3.5 million Hevolution Foundation Grant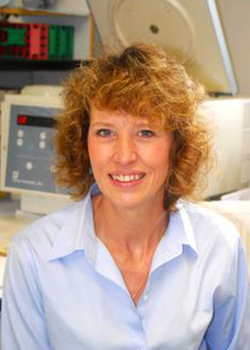 Holly Brown-Borg, Ph.D., Chester Fritz Distinguished Professor with the Biomedical Sciences Department at the UND School of Medicine & Health Sciences has been awarded a 5-year, $3.5 million grant from the Hevolution Foundation titled, "Cellular Mechanisms of Frailty Onset." This project focuses on the underlying aging biology that leads to age-related dysfunction and disease. The grant includes a sub-contract to Dr. LaDora Thompson of Boston University.
Dr. Brown-Borg describes the project: "This five-year award will support research focused on defining mechanisms that contribute to the onset of frailty. Our project is aimed at determining the underlying factors that initiate muscle dysfunction with age. Specifically, we will link distinct inflammatory signatures to declines in physical activities and muscle dysfunction in two mouse strains that age at different rates. Once we determine the onset of the decline, we will study the mechanisms contributing to muscle dysfunction and then intervene by treating mice with a natural compound shown to reduce inflammation. We will demonstrate that the decline in physical and muscle function with age can be delayed or prevented leading to healthier life. We will use our Ames mice as they are long-living and exhibit multiple aspects of delayed aging. Using these unique mice will further our understanding of the role of healthy metabolism in delaying elements that promote aging. Together, our studies will define factors related to frailty onset and study a natural intervention found to be efficacious in preliminary trials, and could be applied globally to preserve or improve the health and well-being of humans."