Vital Signs
Vital Signs is the annual community report of the UND School of Medicine & Health Sciences. It represents the good-faith effort of the School to provide current and accurate information about its operations and outcomes.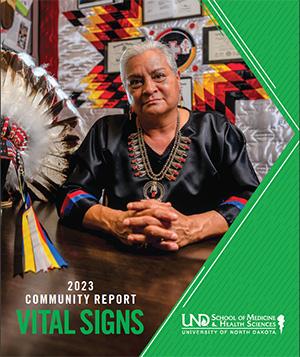 Total Graduates (from our programs in medicine, physical and occupational therapy, physician assistant studies, medical laboratory science, athletic training, public health, and our graduate research programs)
Family Physicians practicing in North Dakota who graduated from the SMHS or completed an in-state residency
Total sponsored funding in millions from external sources dedicated to research and other projects in fiscal year 2023.
Percentile rank for fraction of medical student class identifying as American Indian