North Dakota Medicine
North Dakota Medicine is a quarterly print publication of the UND School of Medicine & Health Sciences.
Current Issue
Fall 2023 (Vol. 48, No. 3)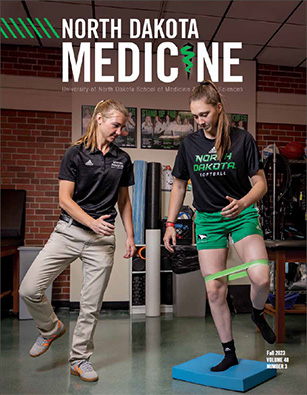 View PDF
Feature Stories
Setting the pace - UND's Department of Sports Medicine celebrates 30 years of leading the nation in best practice care for student athletes.
From plains to peaks - UND's satellite occupational therapy program in Casper, Wyo., celebrates 30 years of rural health delivery.
Walking on sunshine - UND medical students get hands-on dermatology education at the Fargo Center for Dermatology.
When in R.O.M.E. - UND health workforce experts share research and collaboration efforts with rural providers.
Scrubbing in again - The UND Center for Rural Health Scrubs Academy I returns to UND.
Leaders today and tomorrow - SMHS students across programs engage with their professions through multiple student interest groups.
Coloring the world with biomarkers - UND Department of Pathology Associate Professor Sandeep Singhal discusses bioinformatics, biomarkers, and differences in cancer biology related to racial and ethnic diversity.