"The Kind of People We Had"
The UND School of Medicine and Health Sciences celebrates 70 years of biomedical research.
To hear Ed Carlson tell it, a single anecdote summarizes what it means to be a member of what is today known as the Department of Biomedical Sciences at the UND School of Medicine and Health Sciences (SMHS).
"Two words: Ted Snook," says Carlson, referring to the former chair of the Department of Anatomy & Cell Biology who single-handedly developed a microscopic stain— the Snook Reticulum—still used in labs around the world. He did so on a budget of almost nothing using the spleens of striped gophers he had caught himself in North Dakota.
"When [Snook] became chair [in 1967] the administration gave him $500 so he could do some research," Carlson (right) continued. "And when he retired several years later he still had almost $400 in the kitty. That's the kind of people we had."
According to Carlson, himself a former anatomy chair, it is this particularly North Dakotan sense of thrift and ingenuity—the do-it-yourself focus on the nuts and bolts of basic science work—that helped UND's Department of Biomedical Sciences grow from a collection of disparate departments into the thriving interdisciplinary team it is today.
We never sought the spotlight, but we deserve it. This isn't just a run-of-the-mill place—this is a really important center. We wanted to just do good work in the lab, and we've done a lot of work that should make us all proud, stuff that is still in use today around the world.
Bringing it all together
The interdisciplinary approach to biomedical research at UND was a long time coming, though. And the sailing wasn't always smooth.
Around the time of its founding in 1905 the SMHS housed only a single laboratory science department—anatomy. The School then added several laboratory sciences over the course of a century, including physiology in 1924, microbiology in 1948, biochemistry in 1951, and pharmacology in 1977. After evolving and combining with units such as molecular biology and immunology over the years, the departments made their marriage official in 2014 when they became the Department of Basic Sciences (changing again to "Biomedical Sciences" shortly thereafter).
In the recollection of former Biochemistry and Molecular Biology chair David Lambeth, this original arrangement, where departments and disciplines were more isolated from each other, fostered a handful of "turf battles" wherein departments quite rationally competed for research dollars, teaching time, and administrative attention. Likewise, the departments' methodological or philosophical distance from one another at times made it difficult for them to collaborate.
Combining the departments helped change that.
"While I was interim chair, Dean [H. David] Wilson asked me what I would think if we combined the departments into a single large department," recalls Lambeth (right). "I probably gave him some evasive answer like 'I'd have to think about that.' I wondered if it would create a structure that would become unwieldy. On the other hand it was becoming clear that in the sciences interdisciplinary interactions were absolutely necessary. Everyone has moved toward the molecular level today. The disciplines are less distinctive now than they were in the past."
Former Microbiology and Immunology chair Roger Melvold agrees.
"The nature of the sciences has changed," adds Melvold, admitting that there had been much overlap in content between departments before the merger. "All the sciences began to rely on a more integrated set of techniques and philosophies. And I'm sure there have been over the years some snags and hiccups, but I think, overall, it seems to have worked out."
Through all the changes, argue Carlson, Lambeth, and Melvold, one thing has remained consistent at UND: the science has been good and the researchers productive.
"I was blessed with a marvelous gift when I walked in the door—some of the very best researchers and teachers who worked for me when I was chair," says Carlson, who also credits longtime SMHS electron microscopist Frank Low with helping get the School on the map. "I had no trouble making my department look good because my team did it for me."
Expanding Research
Carlson has a point. Snook's and Low's major contributions to their respective fields notwithstanding, faculty and graduate students who have populated the various departments that today constitute the biomedical sciences team at the SMHS have produced some outstanding and important scholarship—and continue to attract major research grants from state and federal agencies such as the National Institutes of Health, Centers for Disease Control and Prevention, Center for Medicare and Medicaid Services, and National Science Foundation.
And the number of such awards has grown considerably. A history of the Biochemistry and Molecular Biology Department—provided by Lambeth—shows that the department attracted "only" $6 million in research awards and fellowships between 1951 and 1982. And as John Vennes and Patrick McGuire document in their SMHS history North Dakota, Heal Thyself, in 1999 the School of Medicine and Health Sciences had "less than $300,000 in pending grants" from external agencies.
By comparison, the Department of Biomedical Sciences, as a unified team, won over $20 million in research awards in 2017 alone.
Such awards have been used to produce important work on cancer, neurodegenerative diseases such as Alzheimer's and Parkinson's, aging, health disparities between populations, and a variety of infectious diseases. This is all in addition to the basic science work ongoing at the School every day that contributes to the world's understanding of the human genome, neuroscience, and population health broadly.
The Future
The result of all of this—70 years' worth of combining departments, the School's expanded focus on research, and the changing nature of both science and healthcare—is a department that today recruits and markets itself not on its strength in a particular discipline, but a series of research foci.
Managing the massive operation these days is Colin Combs, the Chester Fritz Distinguished Professor who became chair of Biomedical Sciences in 2015 and is now responsible for a department that claims more than 150 faculty, staff, graduate students, and postdoctoral researchers (or "postdocs").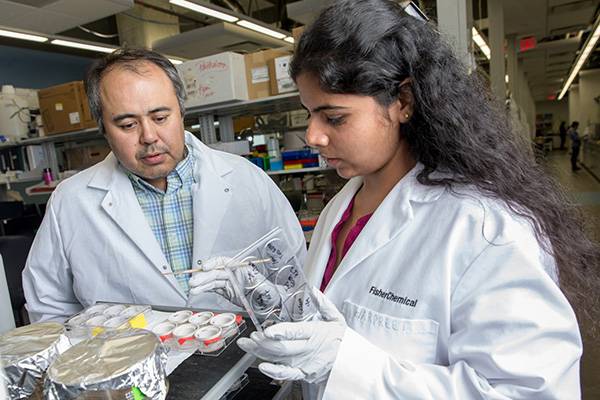 "We were always a pretty interactive group, even when we were 'separate,'" says Combs from his third floor office in the SMHS. "Merging helped us bring together additional things besides research interests, like ideas on graduate and postdoc training. By combining we had to develop a cohesive mission that fit with all of our different interests."
"One thing we didn't do as well before was attend each department's seminars," Combs explains. "Now that it's all one departmental seminar series, we're engaged with a broader research vision. This helps us be quite a bit more interdisciplinary. It's pretty common now to have collaborative publication and grant submissions from people who before would have been in different departments."As an example, Combs cites the several seminar series that were combined into one.
Moving forward, Combs says the biomedical sciences team at the SMHS fully expects to continue growing and evolving, not only by continuing to publish in leading journals and attract major grant dollars, but by recruiting trainees of all levels.
"We're hoping to expand our number of graduate students and improve our training top-to-bottom," he says. "We're submitting grants that, if awarded, would allow faculty to do more work with high school students, undergraduates, graduate students, and postdocs. We've been increasing our postdoc group steadily since we merged, and we'd like to continue to do that."
In the end, then, Carlson—who says "I can't imagine anyone doing it better" of Combs's leadership of the unified department—argues that if UND's biomedical sciences effort has not received the national recognition it deserves, it is because the team here has been too modest for too long.
"We never sought the spotlight, but we deserve it," he concludes. "This isn't just a run-of-the-mill place—this is a really important center. We wanted to just do good work in the lab, and we've done a lot of work that should make us all proud, stuff that is still in use today around the world. I'm very, very proud of that and proud to be part of the heritage of this institution."