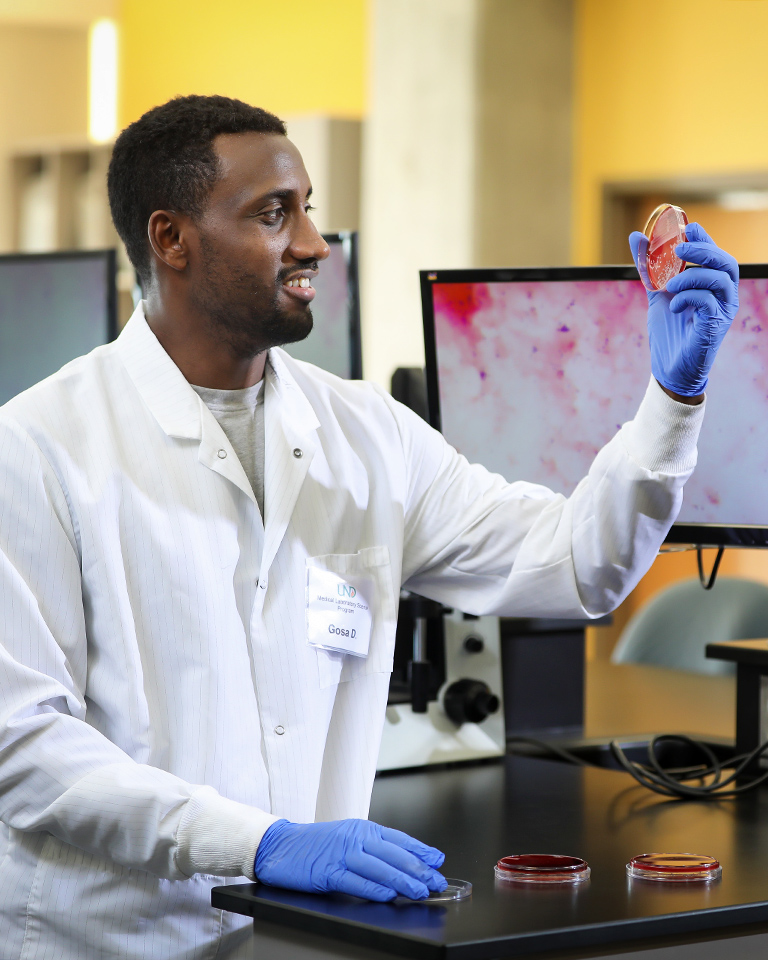 Philosophy & Goals
Mission
The mission of the he University of North Dakota School of Medicine & Health Sciences (SMHS) Medical Laboratory Science (M.L.S.) Department is to educate laboratory professionals to meet the healthcare needs of the state, region, and nation. The Department is dedicated to providing students with the knowledge and skills necessary to succeed as practicing professionals.
Philosophy
The philosophy of the Department is to provide high quality laboratory science education to healthcare entities in North Dakota, the region, and nationally. The department strives to provide a cutting-edge learning environment that offers continuing education, certificate, undergraduate, and graduate programs which allow individuals to develop into leaders in the laboratory science field.
Program Overview
The M.L.S. and Histotechnician programs are committed to providing an educational program consistent with the Medical Laboratory Scientist and Histotechnician standards outlined by the National Accrediting Agency for CLS (NAACLS).
M.L.S. Department Goals
To provide the student with the entry-level competencies needed to work in their field of study.
To provide the student with adequate knowledge and background experience to quality for national certification examinations appropriate to the level of education.
To provide instruction and evaluation based on identified competencies and content of the clinical discipline that is responsive to individual student needs.
To encourage graduates to remain in the region by providing sufficient clinical experiences in state.
To provide sufficient medical laboratory science and histotechnician professionals to meet the needs of state, city, and rural communities.
To increase the depth of learning in various major fields of laboratory sciences.
To prepare graduates to work in both large and small clinical laboratories.
M.L.S. Assessment Goals
To develop an assessment plan that ensures the following: all stakeholders are considered; University goals are incorporated, student learning and quality of teaching are evaluated; continuous monitoring occurs and is documented.
To have assessment policies and procedures in place that encourage and facilitate departmental viability, quality, and/or continuous improvement.