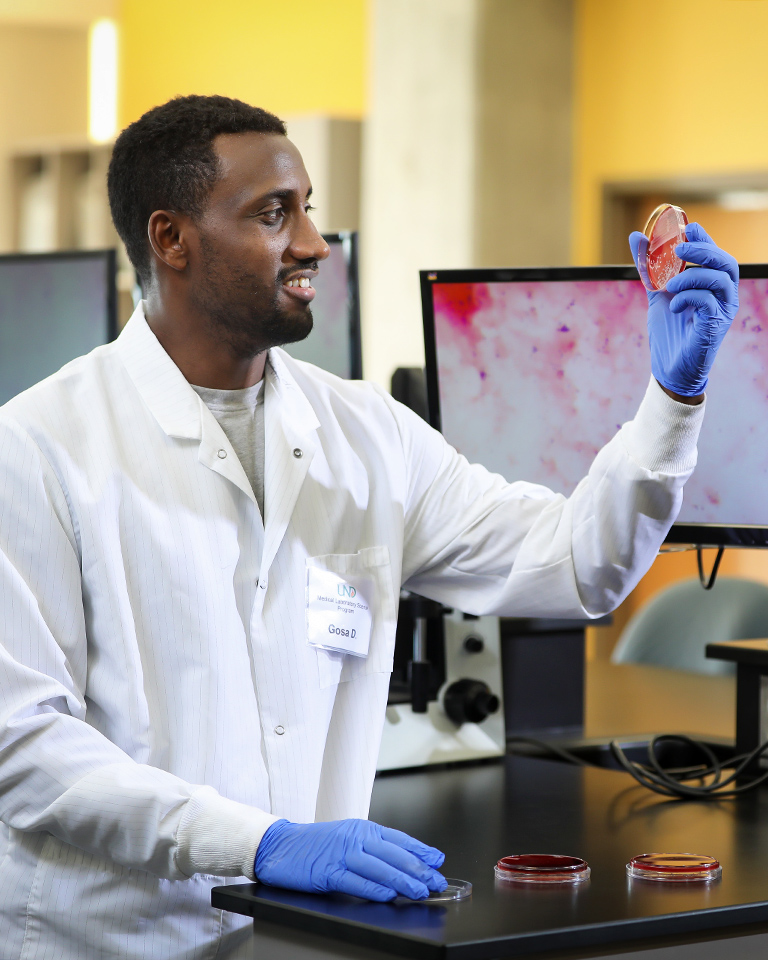 Mission & Goals
Mission
The mission of the Department of Medical Laboratory Science (MLS) is to provide high-quality education that prepares students to positively impact healthcare through medical laboratory practice in the state and affiliated regions.
Program Overview
The MLS and Histotechnician programs are committed to providing an educational program consistent with the Medical Laboratory Scientist and Histotechnician standards outlined by the National Accrediting Agency for CLS (NAACLS).
MLS Department Goals
Develop and deliver a curriculum that: reflects current laboratory knowledge and best-practice; promotes critical thinking, scholarship, and life-long learning; is responsive to the needs of students with diverse backgrounds; and aligns with the University of North Dakota (UND), UND School of Medicine & Health Sciences, and National Accrediting Agency for Clinical Laboratory Science standards.
Provide a student-centered environment through individualized advising, responsive mentoring/instruction, and supportive faculty/staff.
Help address healthcare needs in the state and affiliated regions by graduating students that: meet entry-level competencies; are employable in various settings; and are positioned for leadership in medical laboratory practice.
Promote and advocate for medical laboratory professions.
Undergraduate MLS Learning Goals
The student will develop technical skills required for practice as an entry-level practice medical laboratory scientist.
The student will be able to apply managerial concepts, troubleshooting techniques, and problem solving strategies related to entry-level practice as a medical laboratory scientist.
The student will be able to recognize professional behaviors vital for practices as an entry level Medical Laboratory Scientist.
The student will incorporate principles related to UND student learning goals (ex. Essential Studies).
Graduate MLS Learning Goals
Students will understand the role of the clinical laboratory in producing positive patient outcomes, and be able to communicate that role within a team of healthcare professionals.
Students will be prepared to identify, critically assess, and/or problem solve issues related to professional practice in the field.
Students will demonstrate knowledge of an advanced scholarly curriculum that encompasses the scope of practice in medical laboratory science.
Students will build professional communication skills to be utilized across multiple topics of disciplines.