Office of Interprofessional Education
Welcome to the Office of Interprofessional Education at the UND School of Medicine & Health Sciences.
Our goal is to enrich health professions students across campuses and health care settings with interprofessional education and Collaboration (IPEC) experiences that address patient care, population health, and community problems that will inform their future practice settings.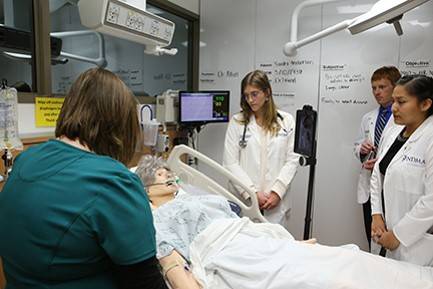 Students are introduced to teams and teamwork concepts through the Interprofessional Health Care Course (IPHC). This is the primary foundational course for eight health professions across three colleges and schools at UND, including students from medicine, nursing, physical therapy, occupational therapy, communication sciences and disorders, social work, nutrition and dietetics, and counseling psychology.
Other interprofessional collaborative learning activities include the PharmD/MD match program, the Global Health Elective, the Interprofessional clinical elective, interprofessional Geriatric experiences, community level experiences, and interprofessional simulations.
Students are also enrolled in an IPEC Badging Program to earn credit across the curriculum at Competency, Expert, or Mastery levels in IPEC
The IPEC's Core Competencies for Interprofessional Collaborative Practice serve as the basis for interprofessional education activities at the University of North Dakota.